Bolstered by the anniversary of their first camera operating in outer space and being selected to develop space hardware for a unique science mission currently orbiting the moon, a South African satellite company is now poised to deliver the highest resolution hyperspectral camera yet to fit into a cubesat.

Last week, the Cape Town-based Space Advisory Company (SAC) celebrated the anniversary of the first image captured over Canada by their Gecko Imager from an altitude of 400 km. The Imager is still operating flawlessly from their satellite orbiting Earth. This anniversary follows hot on the heels of supplying a critical digital controller unit for a Dutch astronomy experiment hitching a ride on the Chinese Change'4 satellite that is currently orbiting the far side of the moon.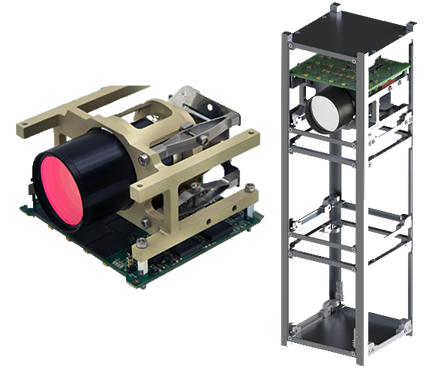 The Gecko Imager won a prestigious innovation award at the 2017 Da Vinci Top Technology (TT100) Awards, South Africa's foremost technology innovation awards, with SAC being finalists in all of the qualifying categories and also a winner in the management of systems category. In addition, they were ranked in the Top 3 of the prestigious 2018 Innovation League Awards, for medium enterprises within South Africa.
The company's first ,in-house, spaceborne hyperspectral imager, initially developed with support from the Aerospace Industry Support Initiative (AISI), had been delivered to SCS-Space by SAC during 2017 for testing and calibration in SCS-Space's recently commissioned facility.
Daniel van Niekerk, COO at Space Advisory Company, said that a final and crucial link in the chain has been added by SCS-Space. This means that essential facilities required during design, development, integration and testing are available within the SCS Aerospace Group. Having the major critical components, supply chain and facilities locally within South Africa, ensures that the company can deliver cutting edge technology, such as the Hyperspectral Chameleon Imager, to the local and international market.
The company also stated that the environmental constraints imposed on the in-house designed systems ensure that they will survive the harsh effects of vacuum, radiation, heat and vibration encountered en-route and in space. With an internal design philosophy focused on modularity, quality, high-performance, volume constrained systems their products are also suitable to opportunities closer to Earth on High Altitude Aerial Platforms such as UAVs/Drones or basically any area where remote observation is required.
Duncan Stanton, CEO of Space Advisory Company (SAC), said that the company's next step is to produce the Chameleon Imager for the standard CubeSat 2U volume, which will realize a ground resolution of 10 meters over a swath of 32 km. wide from a distance of 500 km. This means SAC will fit a camera into a box the size of two hands put together with a weight of 1.35 kg., which can recognize an object as small as a bus from 500 km. away. This camera is configured to store up to 160 GB of data onboard, in the RGB, Multispectral or Hyperspectral format with a multitude of potential applications, such as enabling food security programs through crop monitoring and bio-mass classification, mining and prospecting, fire detection and infrastructure monitoring.
Duncan added that the firm's Chameleon Imager is a highly capable and configurable system that draws its heritage from the space proven, operational Gecko Imager plus the hardware developed by SAC for the Netherlands-China Low Frequency Explorer (NCLE) that is currently on board the Change'4 satellite orbiting the low gravity, Second Earth-Moon Lagrange Point (E-M L2), some 60 to 80,000 kilometres beyond the moon.
Kannas Wiid, product engineer of the Gecko Imager at Space Advisory Company, noted that the ability to put together a high performance spaceborne payload in less than six months can be attributed to the honed skills of the SAC engineers who were comfortable working on ambitious deadlines. Having tailored these systems engineering methodology with designed digital modular building blocks, the firm is now flexible enough to adapt rapidly to evolutions in the smallsat industry.
The company is part of the SCS Aerospace Group (SCSAG) of three which consists of Space Advisory Company (SAC) (www.spaceadvisory.com) providing innovative satellite program and systems products, engineering consultancy and training solutions; SCS Space (www.scs-space.com) which provides satellite mission solutions as well as satellite systems; and NewSpace Systems (www.newspacesystems.com) which develops and manufactures high-quality space components and sub-systems. The group employs some 90 highly trained satellite specialists including electronic, systems, software and mechanical engineers.
---

Have you been seeking for an effective way to network with industry leaders in an event that is focused on the satellite industry, an event that is not widely open to the general public? Attend Satellite Innovation 2018 for the highest level of industry networking available to SATCOM leaders — informative sessions plus the opportunity to learn as well as having adequate meeting times to network with your professional peers. Additional information: SatInnovation.com.