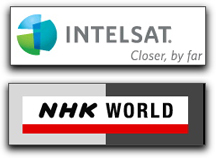 Intelsat, Ltd. has announced NHK Global Media Services, Inc. (G-Media), a subsidiary of NHK Japan Broadcasting Corporation, has signed a multi-transponder, multi-year renewal and expansion contract with Intelsat.
NHK
will use
G-Media'
s backbone capacity on three
Intelsat
satellites, program turnaround services at three Intelsat teleports, and Intelsat's video fiber network to transmit the first global HD news channel,
NHK World TV
, which is an English-language channel broadcasting HD and SD news and Asian lifestyle programming. The content will be gathered from NHK's 30 HD-equipped news bureaus located around the world and
Japan International Broadcasting Inc.
, a company 60 percent owned by NHK, will distribute the programming to millions of viewers in more than 80 countries. G-Media will deliver the 24-hour free-to-air HD news and lifestyle channel from NHK's new HD studio in Tokyo to cable headends and DTH service providers throughout the Americas, Africa, Europe and Asia, using Intelsat's infrastructure, including its video neighborhoods that provide access to thousands of cable and DTH communities throughout the world. The same infrastructure will be used by G-Media to transmit NHK's international Japanese language premium channel, NHK World Premium. For Asia-Pacific and the Americas, the programming will be distributed via the
Intelsat 8
and the
Intelsat 9
satellites located at
166 degrees East
and
302 degrees East
, respectively. For Europe, South Asia, the Middle East and Africa, the programming will be distributed via the Intelsat 10 satellite located at
68.5 degrees East
. Turnaround services will occur at Intelsat's Napa, California, Fuchsstadt, Germany, and Ellenwood, Georgia teleports.