[Satnews] Keysight Technologies, Inc. (NYSE: KEYS) and Spreadtrum Communications (Spreadtrum) have announced a memorandum of understanding (MoU) to collaborate on the research and development of mobile chipset advanced technology.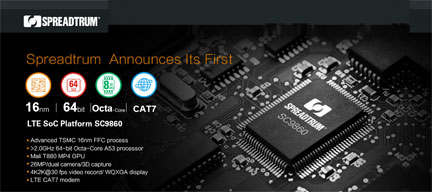 The Keysight and Spreadtrum teams will work together to develop test solutions for new testing needs, including mobile chipset baseband, RF module and conformance test. This strategic collaboration brings Keysight's expertise in mobile chipset test together with integrated hardware and software solutions.

Spreadtrum is a worldwide top 10 fabless semiconductor company headquartered in China. The company's focus is on the advanced technology within the area of 2G, 3G and 4G wireless communication standards. Keysight has dedicated a technical team in Shanghai to work directly with the Spreadtrum teams on establishing the technology center, which is expected to open publicly in May 2016. Ron Nersesian, president and CEO of Keysight Technologies and Dr. Leo Li, Chairman and CEO of Spreadtrum Communications, signed the strategic partnership MoU on Feb. 24 at the Mobile World Congress in Barcelona.
"With the strong support from Keysight in providing us with the latest measurement instruments and superb professional knowledge, Spreadtrum is always able to qualify chipset specifications accurately, improve development efficiency and optimize the design flow process," said Dr. Leo Li, Chairman and CEO of Spreadtrum Communications. "For future mobile devices, highly integrated, power-efficient chipsets with customizable software and reference designs in a complete turnkey platform, will enable customers to achieve faster design cycles with a lower development cost. This collaboration with Keysight will allow us to provide our customers with the best user experience. And the technology center is essential for the effective evaluation of candidate core technologies and architectures in the pursuit of chipsets and the timely demonstration of the key capabilities of future mobile chipsets."

"Our strong collaboration with Spreadtrum on mobile chipsets will allow us to lead the technology exploration of China's fabless customers' real needs," said Ron Nersesian, president and CEO of Keysight Technologies. "We will provide Spreadtrum's dedicated technical teams with the measurement expertise required to design, develop and validate their new chipsets; and to set up the new technology center. The MoU also includes working closely today on MIMO, wideband DPD, VoLTE and VoWiFi test solutions, while expanding to 5G solutions as we move forward."