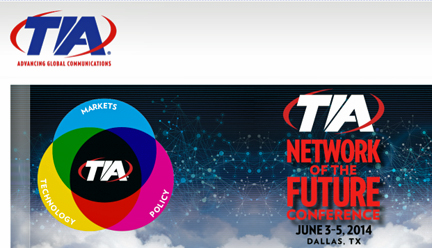 [SatNews] The Telecommunications Industry Association (TIA) has filed comments with the House Energy and Commerce Committee regarding spectrum policy—the filing comes in response to the Committee seeking input from stakeholders on a potential update of the Communications Act.

In its response, TIA highlighted four key principles around which spectrum policy must be designed: predictability to reduce uncertainty and promote investment, flexibility of uses for commercial spectrum allocations, efficiency of spectrum use, and priority whereby those with superior spectrum rights are protected from harmful interference.

"Spectrum is the fuel powering the mobile revolution," said TIA President Grant Seiffert. "As millions of American consumers are demanding more voice, video, and data from their mobile devices, efficient use of scarce spectrum resources is vitally important for consumers and for the information and communications technology (ICT) industry. Congress has an opportunity to build on the progress in the 2012 Spectrum Act by ensuring that the nation's spectrum policy is designed to anticipate rapidly expanding demand for mobile broadband while also meeting the needs of both commercial and government users."

TIA noted that while unlicensed spectrum should continue to play an important role in the wireless system, a "one-size-fits-all" approach would be inappropriate. Instead, the choice of a particular band management plan should instead depend on the band's physical propagation characteristics, the nature of incumbent or nearby users, and the proposed unlicensed use. While cleared spectrum is strongly preferred for mobile broadband use to the maximum extent feasible, TIA has supported recent efforts by the FCC, NTIA, and DoD to consider sharing opportunities. TIA urged Congress to improve federal spectrum management through support for better tracking of spectrum usage, improved central coordination among government users, agency incentives for re-purposing spectrum, flexible use funding for agencies undergoing transitions, and exploration of commercial alternatives for federal missions when possible. TIA also urged Congress to support additional research and development work on spectrum sharing, including efforts to identify additional bands that can be opened to mobile broadband applications.

Finally, TIA expressed support for voluntary, industry-led approaches regarding receiver standards. The FCC's Technical Advisory Committee (TAC) has recently called for a multi-stakeholder process to address this issue, and TIA stated that it is willing to help facilitate such a process in cooperation with the FCC.

The full text of TIA's response is available at this direct infopage link.