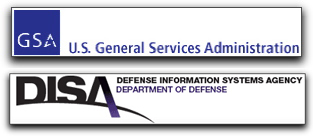 Bob Brewin in nextgov has succinctly summarized the General Services Administration (GSA) and the Defense Information Systems Agency (DISA) initiation of a multibillion-dollar governmentwide procurement to purchase commercial satellite communications services to provide everything from connectivity for forces in Afghanistan to distance learning systems in the United States.
Under an agreement the two agencies signed last August,
GSA
would purchase satellite services for the Defense Department and civilian agencies.
The $5 billion, 10-year procurement, GSA said in a notice posted on the
FedBizOps
web site on February 9th, marks a "key milestone in creating a common marketplace for commercial satellite communications services."
Kevin Gallo
, GSA program manager for the $5 billion
Future Commercial Satcom Acquisitions
, said vendors now can submit proposals to provide military or civilian agencies the option to lease satellite bandwidth or transponders. He said GSA also asked industry to submit proposals for fixed or mobile satellite subscription services that charge by the minute, megabyte or month. These services also could include end user equipment and network engineering services.
The
Schedule 70
contracts can have a term limit of 20 years, and vendors can submit a proposal any time during that time frame. If awarded a contract, vendors will compete for federal satellite services on a task order basis, Gallo said. Next month, GSA plans to release a request for information for an indefinite delivery-indefinite quantity satellite procurement to provide end-to-end satellite services, which will include both satellite capacity and terminals.
The new satellite contracts and the end-to-end procurement will replace DISA's
Defense Information Systems Network Satellite Transmission Service-Global
contract, which reported $360 million in sales in fiscal 2009, and DISA's
Inmarsat Airtime and Equipment
, which had $88 million in business in fiscal 2009. Both contracts expire in 2012, according to
Gallo
. The new contracts also will replace GSA's
Satcom II
contract, which reported sales of $48 million in fiscal 2009 and expires next year. Sales on the three contracts in fiscal 2009 totaled $496 million, which Gallo said indicates the value of the combined GSA and DISA contracts will total at least $5 billion during the next decade. Combining all federal commercial satellite communications contracts should result in lower prices and administration costs, but Gallo declined to speculate on how much the government would save. In August 2009,
Bruce Bennett
, DISA's director of satellite communications, said he expected savings of 10 percent to 15 percent on the acquisition of satellite bandwidth through the combined procurement program.