[SatNews] An International Launch Services (ILS) Proton Breeze M successfully placed the Inmarsat-5 F2 (I-5 F2) satellite into a super-synchronous transfer orbit (SSTO) on Sunday, February 1, 2015.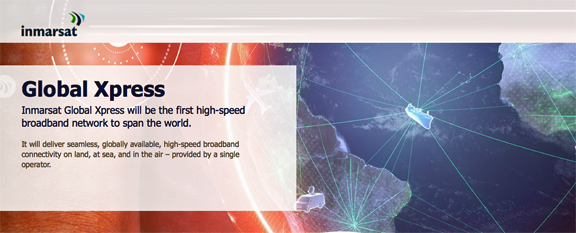 The spacecraft was launched for Inmarsat. I-5 F2 is the second of three Inmarsat next-generation Global Xpress® satellites scheduled for launch on ILS Proton. This marks the first Proton launch of the year and the fourth SSTO mission for ILS, a leader in providing mission integration and launch services to the global commercial satellite industry.

The Proton launch vehicle, carrying the I-5 F2 satellite, lifted off from Pad 39 at the Baikonur Cosmodrome, using a 5-burn Breeze M mission design to advance the orbital unit first to a circular parking orbit, then to an intermediate orbit, followed by a transfer orbit, and finally to a 65,000 km-apogee, super-synchronous transfer orbit. After a 15-hour, 31-minute mission, the satellite was placed into the target orbit by the Proton launcher. SSTO missions provide increased heavy-lift performance over GTO mission designs, allowing our customers the capability to maximize spacecraft operational lifetime.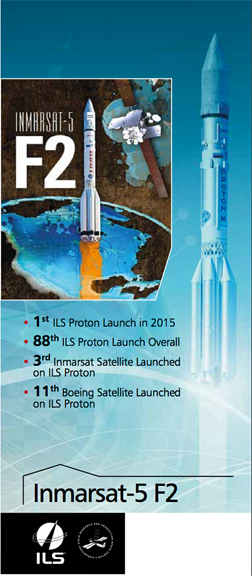 controllers confirmed the satellite was operating normally approximately 15 and a half hours later. After reaching final orbit, the satellite will complete several tests and additional maneuvers before officially beginning service for Inmarsat.
The satellite was manufactured by Boeing Satellite Systems International and built on their reliable 702HP platform. Weighing more than 6 metric tons at lift-off, the I-5 F2 satellite has 89 Ka-band fixed beams and 6 steerable beams. I-5 F2 is designed to generate approximately 15 kilowatts of power at the start of service and approximately 13.8 kilowatts at the end of its 15-year design life. To generate such high power, the spacecraft's two solar wings employ five panels of ultra-triple-junction solar cells.

Global Xpress will be the first globally available, high-speed broadband network, delivered through a single network operator. It will deliver broadband speeds more than 100 times faster than the company's fourth generation (I-4) constellation while maintaining, the network reliability for which Inmarsat is renowned. Based on Ka-band technology, Global Xpress will offer new opportunities for end-users in both public and private sectors, to significantly enhance their connectivity and to access bandwidth-hungry applications, even in the most inaccessible regions of the world.
The I-5 F2 launch marked the 402nd launch for Proton since its maiden flight in 1965 and the 88th ILS Proton Launch overall. This was also the 17th Boeing-built satellite launched on an ILS Proton and the 4th Inmarsat satellite launched on Proton overall. The Proton M Breeze M vehicle is developed and built by Khrunichev Research and Production Space Center of Moscow, Russia's premier space industry manufacturer and majority shareholder in ILS.
ILS President Phil Slack said, "The Inmarsat-5 F2 launch will enable ground breaking satellite communications connectivity via land, sea and air, as part of the three-satellite system launched by ILS Proton. We thank the dedicated teams at Inmarsat, Boeing, Khrunichev and ILS for their successful work on the I-5 F2 mission and we are poised to support the next mission for Inmarsat with the I-5 F3 satellite."
Rupert Pearce, CEO, Inmarsat, said, "Global Xpress is a truly transformational technology and, as we complete its global roll-out, 2015 promises to be one of the most significant chapters in our company's history. Through Global Xpress, the world can move forward from the 'Internet of Everything' to the 'Internet of Everywhere,' in which high-speed, reliable and secure connectivity is available anywhere and at any time—even in the most inaccessible regions—for customers on the move or to fixed locations. We look forward to the ILS Proton launch of I-5 F3, also this year."

A third Inmarsat-5 satellite is scheduled for launch in the first half of this year, completing the Global Xpress constellation. A fourth Inmarsat-5 satellite, scheduled for delivery in 2016, is in production in El Segundo, Calif. Inmarsat also has contracted Boeing Commercial Satellite Services to provide L- and Ka-band payload capacity and managed services to potential government customers.
The International Launch Services infosite may be accessed at http://www.ilslaunch.com/
The Khrunichev infosite has additional details at http://www.khrunichev.com/
To learn more about Inmarsat's Global XPress, please visit http://www.inmarsat.com/service/global-xpress/
The Boeing Defense, Space & Security infosite offers more information at http://www.boeing.com/boeing/bds/