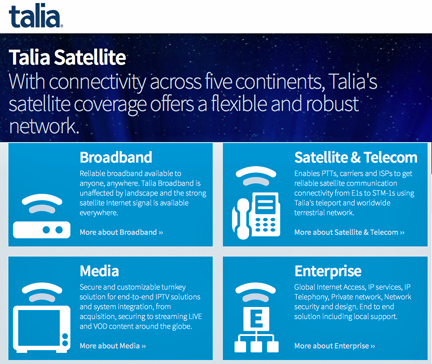 [SatNews] Talia has opened their first office in North America, based in the Washington D.C. area, which will help to serve the firm's American clients and partners with interests in international satellite and terrestrial communications and support operations as expansion also continues into Central and Latin America.
Talia Limited, a teleport, satellite, and terrestrial network operator providing global IP communications with headquarters in London and offices in Germany, Nigeria, Iraq and Dubai, also announced the appointment of Senior Vice President, Joel Allen.
Alan Afrasiab, Chief Executive Officer of Talia, said, "This is an exciting opportunity for us to work more closely with our U.S. clients. It will also provide us with a base as we continue expansion of our satellite and terrestrial services into Central and Latin America."
Heading up U.S. operations will be Joel Allen, Talia's new Senior Vice President, International Business Development for Energy and Public Sectors. Joel Allen joins us with an extensive, 30 years of experience in the U.S. domestic and international telecom/Internet Protocol (IP) sectors focused on telecom operator relationships relating to infrastructure strategy, regulatory matters, business development, partnerships and sales and marketing of services and systems.
Recently, Mr. Allen performed advisory services for the voice, data, video and ISP incumbent carriers in Iraq and Afghanistan focusing on worldwide infrastructure strategy, sourcing, planning, acquisition and management as well as regulation oversight. In February 2011, he completed 12 months in Kabul, Afghanistan as the Technical Advisor to the Minister of Communications and Information Technology and the CEO, Afghan Telecom, dedicated to increasing pre-privatization valuation through sales of their fiber optic network and expanded ICT services. For the year 2009, while located in Baghdad, Iraq, and serving in a senior advisory role for the Government of Iraq with the Ministry of Communications and the National Investment Commission, he initiated infrastructure development activities, rate structure development, marketing strategy and an international carrier and investor orientation.
For information regarding the company, please visit http://www.talia.net/