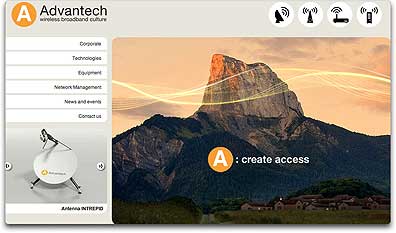 At NAB SatNews announced the new image for Advantech Advanced Microwave Technologies Inc.
This new brand is intended to
achieve a better and stronger reach to current and future customers, to embrace internal synergies, enhance mutual product offerings and to create clarity in their corporate identity.
Advantech's business units, namely:
Advantech AMT, Advantech Satellite Networks, Advantech Allgon Microwave and Advantech AMS will assume one single corporate brand identity.
This transformation represents a significant milestone in the company's history.
The company also introduced several products:
The S5420, the DVB-S2 is an upgrade to the S5400 DVB-SCPC modem.
The S5420 is the
first modem capable of operating in either of two access methods, SCPC or MF-TDMA
. It can
support multiple modes of operation: DVB-S2 (ACM, CCM) SCPC point-to-point, as well as DVB-S or DVB-S2 SCPC (ACM, VCM, CCM) and DVB-RCS point-to-multipoint.
This provides the flexibility to meet a variety of network topologies with a single low cost modem solution and allows transitioning from one to another using the same terminal infrastructure.
The
S5420 is the solution of choice for enterprise and government users, network operators, service providers and broadcasters for a wide range of applications including Internet/Intranet access, LAN/WAN connectivity, email, file transfer, video conferencing, VoIP, video streaming, backup services, backhauling, private networking, Video-On-Demand, SNG, content distribution and contribution and maritime applications.
Management of the modem is via Simple Network Management Protocol (SNMP), or web interface.
Next . . .
Advantech Satellite Equipment also announced Monitor-ClassTM, a new line of low-cost inclined orbit tracking antennas for Very Small Aperture Terminals (VSAT).
Advantech's new Monitor-Class VSAT Tracking System is a
cost-effective solution that benefits users, installers and operators, by enabling accurate, reliable and yet cost effective access to the inclined orbit satellites.
It allows
both existing and newly installed VSAT antennas to follow the path of inclined orbit satellites enabling receive-only, or two-way communication, with greatly reduced operational costs
. Installation uses standard wall or king-post mounts and can be used with existing mounts and reflectors, which simplifies VSAT/antenna installation and set-up as the antenna points itself at the desired satellite, avoiding the need for careful manual alignment.
Once operating, it requires no user involvement and will continually track the satellite 24/7, as well as automatically recover from power outages.
More . . .
Advantech also launched its comprehensive line of revamped Block-Up Converters (BUCs).
Fully operational across
C, X, Ku and Ka-band frequencies, described as the industry's highest power density BUCs in terms of RF power per pound, without degradation in MTBF or performance.
The design of these units is based on Advantech's solid-state high power amplifiers. The BUCs built-in design features and assembly methods coupled with efficient combining techniques result in a device with exceptional linearity and operating efficiency.
The high power and high linearity allows for higher data rates and higher modulation rates as specified by DVB-S2 standard. This translates in reduced OPEX cost, as the user needs less satellite bandwidth in order to transmit.