Harmonic (NASDAQ: HLIT) has announced that SKY Perfect JSAT Corporation (SJC) is upgrading their DTH headend to support HD and UHD delivery using an IP-based video and stream processing solution from Harmonic.

SJC has also deployed an integrated playout solution from Harmonic to simplify the delivery of HD channels. Harmonic's solutions rely on software-based and intelligent function integration to enable seamless channel expansion, increase cost savings and deliver exceptional video quality to SKY PerfecTV! subscribers at low bitrates.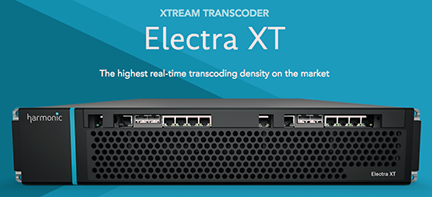 SJC is using Harmonic's Electra® video processing and ProStream® X stream processing solutions to ensure optimal HD and UHD video quality, as well as bandwidth efficiency for their new DTH headend. The Electra and ProStream X platform increases SJC's operational efficiencies and cost savings via the use of COTS servers.
Harmonic's market-leading Spectrum™ X media server features channel-in-a-box capabilities that allow SKY PerfecTV! to deliver a rich on-air presentation to subscribers. By reducing the number of individual components required to air fully branded channels, Harmonic's integrated playout solution decreases equipment, maintenance and power costs.
Executive Comments
Shuhei Yamaura, Managing Executive Officer, Broadcasting Engineering Group at SJC, stated that as the only multi-channel payTV platform operator covering Japan, the company has millions of subscribers counting on the firm to deliver a world-class entertainment experience,. Harmonic has been a long-standing technology partner in helping SJC transition to software-based systems and an industry front runner in delivering HD and UHD channels. As SJC unleashes more than 180 HD and six UHD channels for MPEG-2, H.264 and HEVC distribution, Harmonic's video platforms will provide exceptional efficiency through software and intelligent function collapse.
Shahar Bar, SVP, Corporate Development at Harmonic, added that the company is proud to launch UHD channels at SKY PerfecTV! in Japan, where UHD is at the forefront and leading higher resolution video experiences around the world. SJC selected Harmonic for this upgrade based on the company's proven track record in helping operators around the globe transition their video processing infrastructure towards software-based technologies while maintaining the highest standard of quality and reliability."