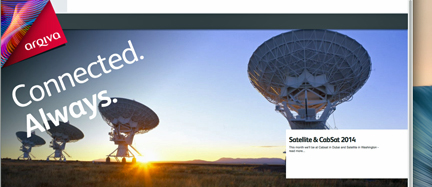 [SatNews] Arqiva is supporting Qatar's first satellite company Es'hailSat in their distribution of Al Jazeera Media Network channels to the Middle East—Arqiva will be transmitting via two of the Es'hailSat transponders available to Al Jazeera Media Network.

Es'hailSat is the first satellite company wholly owned by the State of Qatar, providing independent, critical capacity for Qatar's TV broadcasters. Arqiva will provide high powered and resilient teleport services from its UK sites to transmit content from Al Jazeera for satellite distribution across the Middle East. The first Es'hailSat transponder for Al Jazeera was launched in December 2013, with the second in Q2 of 2014.
Barrie Woolston, Commercial Director of Satellite & Media at Arqiva, said, "this marks a significant step in our international expansion, providing a resilient and secure satellite service for Al Jazeera in the Middle East. It's a strategically important market for Arqiva and we will be looking to deepen our presence there over the next 18 months. This cooperation with Es'hailSat reinforces our commitment to the region."
Ali Al Kuwari, Chief Executive Officer at Es'hailSat, said, "Our first broadcast of Al Jazeera's premium channels across the Middle East and North Africa marked the entry into service of Es'hail 1 and a major milestone for Es'hailSat. Our cooperation with Arqiva, with 90 years of experience providing reliable connectivity, strengthens our ability to provide broadcasting independence, quality service and wide geographical coverage for video, enterprise and government communications."
For additional information regarding Arqiva, please visit http://www.arqiva.com/
The Es'hailSat infosite may be visited at http://www.eshailsat.qa/