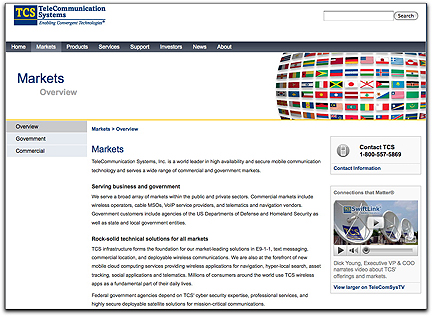 TeleCommunication Systems, Inc. (TCS) (NASDAQ: TSYS) has been awarded a re-compete contract valued at approximately $1.8 million to continue providing managed bandwidth services for fixed satellite terminal sites supporting U.S. government personnel in forward operating areas in Southwest Asia, including Iraq.
TCS will continue to provide a fully operational network for voice, video and data services in remote areas that lack terrestrial communication services.
TCS
previously has built networks to support government organizations in the Middle East, Africa and in South America, as well as the largest private Very Small Aperture Terminal (VSAT) network in the Asia Pacific region for one of the largest U.S. banking organizations. To ensure mission continuity, TCS offers complete end-to-end managed services for converged (IP-based) voice, video and data satcom for seamless, highly secure connectivity between fixed sites and remote operations, including the
SwiftLink
(r) family of deployable communications solutions.