At Entelec 2018, GLOBECOMM will provide attendees with network communications options and applications to support the growing data and Internet of Things (IoT) demands of upstream, midstream and downstream operations.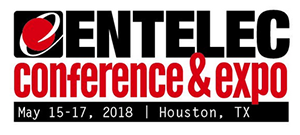 On May 15 at 1:30 p.m., SVP of Sales Engineering and Marketing Paul Scardino will speak on "Breaking Down DNA: Understanding the Network Technologies for Supporting Continuous Connectivity." GLOBECOMM will also release their latest white paper at the conference, "Communication for Upstream Operations for Safety, Security and Crew Welfare."
Visitors to the GLOBECOMM at booth 327 will learn about the design, engineering, integration and operations that made possible deployment of a 158 MB VSAT network supporting Iraqi oil exploration for a major European company. In another example, GLOBECOMM will discuss a 1,000-site VSAT network providing state-of-the-art midstream monitoring and control capabilities.
Paul said that upstream, midstream and downstream communications were once only about satphones and SCADA. Today, the network requirements for continuous connectivity and applications for managing big data has become mission-critical to the industry. The challenge is to meet that demand cost-effectively with an optimized technology deployment.