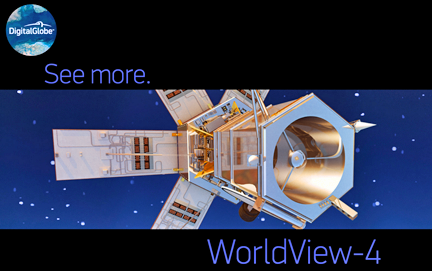 The WorldView-4 satellite, operated by Earth imagery company DigitalGlobe, Inc. (NYSE: DGI), has successfully completed on orbit testing and calibration and started to serve the company's first direct access customer on February 1—additional direct access customers will be added to WorldView-4 service throughout 2017.
WorldView-4, launched on November 11, 2016, becomes the fifth active satellite in DigitalGlobe's constellation. The satellite's performance meets the industry-leading quality standards of the WorldView fleet and joins WorldView-3 as the world's only commercial satellites capable of achieving 30 cm native resolution. Imagery with this level of detail enables users to reliably read street markings, distinguish between cars, trucks, and vans, and confidently understand activities of significance, as demonstrated by a recent SkyTruth analysis that used WorldView-3 imagery to document the likely transshipment of fish by Southeast Asian vessels in the Indian Ocean.
WorldView-4 tasking and archive orders are expected to be made available to all DigitalGlobe customers in the second half of 2017. The satellite more than doubles DigitalGlobe's capacity to collect 30 cm imagery, enhancing the company's ability to meet the most demanding commercial use cases, such as complementing aerial imagery collection strategies, and enabling the creation of high-quality, imagery-derived products, such as high-resolution 3D models and near-seamless, country-scale basemaps.
"Meeting our commitment to delivering WorldView-4 access on time for our customers is a tremendous achievement," said Tim Hascall, DigitalGlobe EVP and Chief Operations Officer.