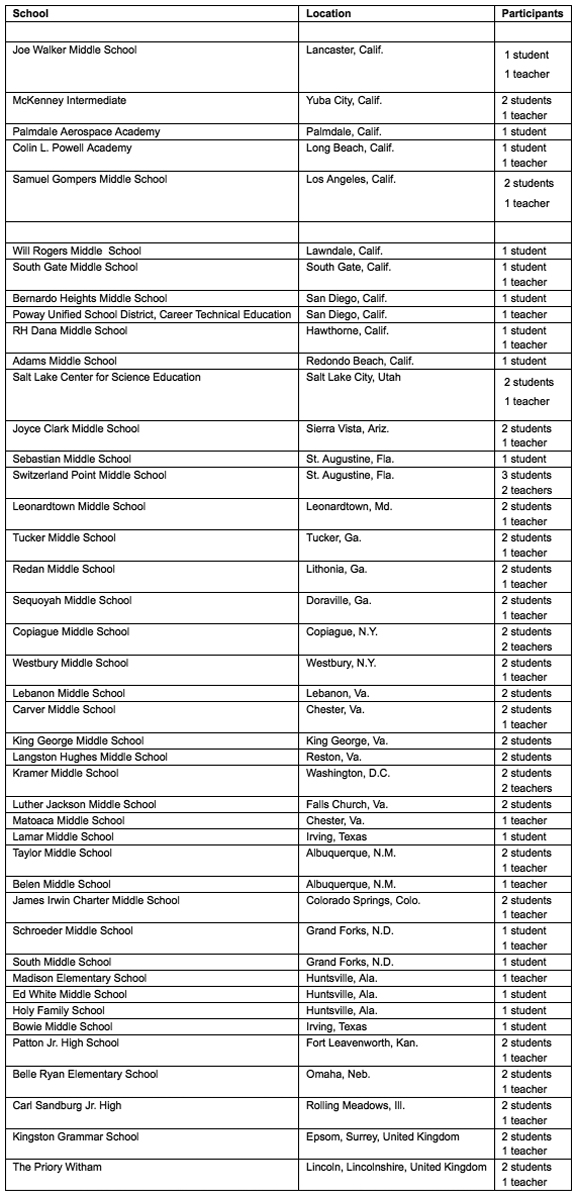 [SatNews] The Northrop Grumman Foundation has announced the sponsorship of scholarships for middle school students and teachers from across the United States and the United Kingdom to attend Space Camp®, July 27-August 1st, at the U.S. Space and Rocket Center (USSRC) in Huntsville, Alabama.
This is the sixth year that the foundation has funded Space Camp® scholarships.
"We are committed to generating student excitement in science, technology, engineering and math (STEM) and providing our educators with resources, tools and training that help to make them even more inspiring in their classrooms," said Sandra Evers-Manly, president of the Northrop Grumman Foundation. "There isn't a better way to experience the wonders of space and discovery and the universe than attending Space Camp, which has provided an out of this world experience for adults and children for more than 30 years."
This year's sponsored space campers are 34 middle school teachers from eight states and 64 middle school students from 16 states and the District of Columbia. Four students and two teachers are from the United Kingdom.
Student campers will go through the ultimate space adventure this summer, participating in activities such as building and launching rockets, experiencing weightlessness in an astronaut-training simulator and simulating space travel preparation. Their science teachers will attend the Space Academy for Educators, a program designed to provide teachers the tools to enhance how they use STEM concepts in their classrooms.
The sponsorship is part of the Northrop Grumman Foundation's K-12 Initiative, which aims to advance excellence in STEM education by encouraging and supporting students and teachers from elementary school through high school.
The USSRC Space Camp® is the premier provider of authentic, inspiring and entertaining educational experiences in space science and aviation. The Space Academy for Educators amplifies that mission by using the excitement of the program to create an immersive learning environment where teachers learn new ways to present concepts in their classrooms effectively. Additional information about this year's Space Camp® can be found at http://www.spacecamp.com/.
Northrop Grumman and the Northrop Grumman Foundation are committed to expanding and enhancing the pipeline of diverse, talented STEM students globally. They provide funding to STEM programs that span from preschool to high school and through collegiate levels, with a major emphasis on middle school students and teachers. Northrop Grumman employees actively volunteer in support of many STEM organizations in their communities and internationally. In 2013, Northrop Grumman and the Northrop Grumman Foundation continued outreach efforts by contributing millions of dollars to diverse STEM-related groups such as the Air Force Association (CyberPatriot), Conservation International (ECO Classroom), the REC Foundation (VEX Robotics) and the National Action Council for Minorities in Engineering.
The Northrop Grumman Foundation supports diverse and sustainable programs for students and teachers. These programs create innovative education experiences in science, technology, engineering and mathematics. For more information, please visit http://www.northropgrumman.com/foundation.