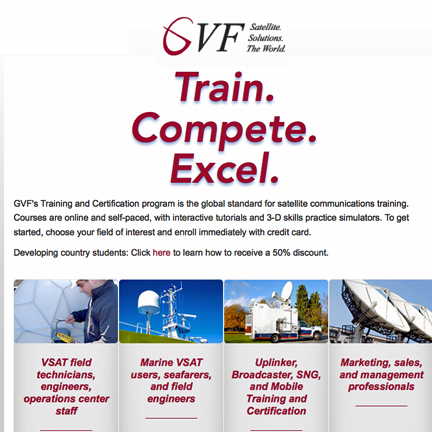 [SatNews] The international satellite communications industry has elected five leading executives to serve on GVF's Board of Directors where they will lead the association as it continues to create greater awareness of the commercial, economic, political and technological advantages provided by satellite broadband and broadcasting solutions.

"As the satellite communications industry addresses major challenges and opportunities, the need for a strong, well-credentialed GVF Board has never been greater," said David Hartshorn, Secretary General of GVF. "The industry has selected these leaders (see below) based upon their outstanding track records, as well as their vision and commitment to strengthening every link in the value chain."

The GVF Board elections were held at the Annual General Meeting on December 3 in London at the Strand Palace Hotel, in conjunction with the GVF High Throughput Satellite Roundtable. Delegates participated in two days of open-forum discussion on new trends, opportunities and challenges that are key priorities on the Board of Directors' agenda. Those priorities include the following:
Protecting Satellite Spectrum: As global efforts by the wireless industry to secure access to fixed and mobile satellite spectrum continue, GVF leads the Satellite Spectrum Initiative, campaigning with key industry leaders to increase global advocacy efforts and activities in preserving critical spectrum for use by the satellite communications industry and stakeholders.
Cyber-Security Best Practices: To strengthen stakeholder efforts in defending against growing cyber threats, GVF has been making strides in advancing a 'culture of security', establishing security guidelines for operators and enterprises, and developing compliance processes based on cyber-security best practices for the satellite communications industry.
Building Core Competencies: Improving the skills and knowledge of technicians and operators is a strategic necessity for the industry and its customers. With tremendous increases in the number of earth stations now being installed each month, the need to train and certify technicians is increasing exponentially. GVF's Certification program has already enrolled more than 10,000 trainees worldwide, and is expanding to provide training for broadcasting, maritime, oil & gas, emergency management, and other user groups.
Promoting Quality Products: As satellite communications have become increasingly popular, the industry has seen tremendous growth in terminal manufacturing, with a proliferation of product types becoming available. GVF's Quality Products Framework facilitates effective testing and type-approvals processes, while promoting best practices in design and production.
Improved Market Access and Regulation: New reforms are needed to enable a more cost-effective operating environment. It is necessary to facilitate expanded access to affordable satellite-based services worldwide, and to monitor and act upon licensing conditions that threaten market access to satellite communications. The GVF Regulatory Working Group is diligently working to promote progressive reforms to insure affordable, easily accessible service for users worldwide.
Cultivating Operational Effectiveness: As the satellite industry has grown with unparalleled demand for mobility, high-throughput and other state-of-the-art satellite solutions, GVF has been driving satellite-industry programmes to implement network validation, benchmarking and other interference prevention and mitigation initiatives that are designed to enhance signal quality and operational effectiveness. (www.gvf.org)
Industry Advocacy & Outreach: From disaster preparedness to community connectivity, and from oil & gas to maritime, mining, military and bridging the 'Digital Divide', the importance of effectively communicating the satellite industry's value and contributions is greater than ever before. GVF is elevating the industry profile through events, the media and online platforms.
Companies involved in the provision of satellite communications systems and services are eligible to join GVF to support these and other industry programs. There are two Membership categories: Full GVF Members are eligible to nominate, vote, and to become elected to the GVF Board of Directors; Associate Members are able to participate in all other GVF activities.

An introduction to the elected and seated GVF Board Members:

Yasir Hassan, Director of Transmission Operations, ARABSAT. Yasir Hassan has 18 years of experience in the Telecommunication field starting with King Fahad City for Satellite Communication in Saudi Arabia. He joined ARABSAT in July 1998, held the position of Engineering Services Head in 2008 and was selected to be the Director of Transmission operation in 2010. Mr. Hassan holds a Bachelor of Science with honour degree in Electrical & Electronic Engineering from Eastern Mediterranean University, Northern Cyprus, and obtained his MBA from University Of Leicester, UK in 2005. He also serves as a Director on the Satellite Interference Reduction Group.
Simon Gray, Field Support Manager, Eutelsat. Mr. Gray is responsible for Eutelsat's VSAT training program and the design of all its tools and mobile apps to help VSAT installation. This training program has trained over 10,000 engineers in more than 30 countries on 4 continents. Mr. Gray is responsible for all Eutelsat VSAT level 3 troubleshooting escalation procedures and is also involved with the Eutelsat VSAT Antenna Approval procedure, which is essential to reducing interference. Mr. Gray's responsibilities at Eutelsat include ODU design such as antennas, amplifiers, BUCs, LNBs, multi-feeds, etc. for all Eutelsat VSAT products.
Timothy Shroyer, Chief Technology Officer, General Dynamics' SATCOM Technologies, one of the world's largest manufacturers of satellite earth station equipment and systems. As a satellite communications systems engineer, he has managed, designed, built, installed, and operated satellite earth stations around the world since 1975. He has designed and installed uplink stations of many types on all the world's continents, and developed new earth station architectures including pioneering the development of L-Band IF systems, now common in commercial and military satcom. Among his other responsibilities, he is one of the principal architects of the General Dynamics Satcom-On-The-Move System and products. He has worked closely with the Federal Communications Commission in the United States to create a licensing class for VMES systems and is on the DoD panel responsible for the formulation of interoperability of SHF Satellite Communications Terminals. Mr. Shroyer began his satellite communications career as a Lieutenant with the United States Navy and was a part of the Defense Information Systems Agency. He holds a B.Sc. degree in Electrical Engineering from the University of Southern California and Commercial licenses from the Federal Communications Commission. He has served on the GVF Board since 2013.
Arunas Slekys, Vice President, Corporate Marketing, Hughes Network Systems. Arunas Slekys is responsible for managing all of Hughes marketing communications and advocacy initiatives worldwide. He holds a B.App.Sc. degree in electrical engineering from the University of Toronto, an M.Sc. from the University of Illinois, and a PhD in computer and communications engineering from UCLA. He is co-author of a founding patent for wireless data systems (CDPD) and is a frequently published author on satellite and wireless communications. Dr. Slekys has served as the elected Chairman of the GVF Board since 2006.
Jonas Eneberg, Vice President, International Spectrum Management, Inmarsat. Mr. Eneberg has been working in international spectrum management for 25 years. He started his career at the Swedish national regulator, then part of Swedish Telecom, in 1990 and joined Inmarsat in 1995. Since 2000, he has been responsible for Inmarsat's ITU-R related activities as well as frequency coordination of the Inmarsat satellite networks. Mr. Eneberg is well known throughout the industry for his role in successfully promoting satellite industry spectrum interests at World Radiocommuncations Conferences, for example in obtaining new allocations for mobile-satellite services and defending the C-band FSS spectrum. His large network of contacts will contribute to spreading GVF messages to key decision makers at national, regional and international levels.
Michael DeMarco, Senior Vice President, Product Management, Intelsat. Mr. DeMarco is responsible for Intelsat's Broadband Services Product Management, Media Product Management, Mobility Product Management, Asset Management, Customer Solutions Engineering, Product Marketing and Marketing Communications functions. His team is chartered with developing and implementing Intelsat's product roadmap, allowing the sales team to link customer requirements to the appropriate solution in the Intelsat portfolio. Mr. DeMarco earned a Bachelor of Science degree in Finance and a MBA from Fairfield University in Connecticut.
Nancy Eskenazi, Vice President Legal Service, Global Regulatory, SES. With more than 20 years of experience in the satellite sector, Ms. Eskenazi brings a unique regulatory and policy perspective to GVF. In this role she leads development and execution of regulatory and policy strategy for the Americas, Europe, Russia and Turkey. She also manages global export control, sanctions compliance and antitrust matters. Nancy is closely involved in regulatory, policy and spectrum matters on national, international and at the ITU levels. Ms. Eskenazi holds an LLM in International & Comparative Law from Georgetown University and a Juris Doctor and MS in Television, Radio & Film from Syracuse University. She received a Bachelor of Arts degree from the University of Massachusetts at Amherst.
For additional details, please visit the GVF infosite at http://www.gvf.org/