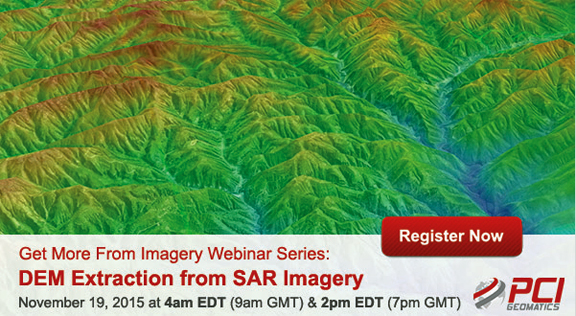 [Satnews] PCI Geomatics is offering a free webinar on November 19 as part of their "Get More From Imagery Webinar Series."
The webinar will be conducted on November 19 at:
4:00 a.m EDT (9:00 a.m. GMT)
2:00 p.m. EDT (7:00 p.m. GMT)
Attendees will learn best practices for extracting DEMs from Synthetic Aperture Radar (SAR) imagery using Geomatica and commercially available imagery from RADARSAT-2 and other sensors. The focus of this webinar will be on a case study done over Santorini, Greece. The speaker will be Jean-Sébastien Bouffard, PCI Geomatics Technical Solutions Specialist.
During this 30 minute webinar, PCI Geomatics experts will demonstrate:
Data collection considerations (incidence angles, resolution)
New, fast DEM extraction tools for SAR imagery
Time series automated DEM Change detection
Interactive DEM Editing tools and filtering capability
How using a SAR derived DEM provides higher quality ortho-images
Quality Assessment of DEMs
Register at this direct link to attend this informative webinar.