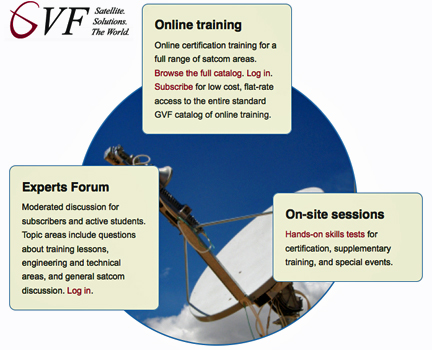 [SatNews] The GVF now has an exciting change to the firm's award-winning training program—the GVF Knowledge Center, featuring individual and bulk monthly subscriptions, an Experts Forum for all active students, and site licenses to provide training program access to entire organizations for one monthly fee.
The monthly subscription provides unrestricted access* to the standard library of online interactive, simulator-based SATCOM training courses and certifications exam. Training paths for fixed VSAT Basic/Advanced certification courses, marine VSAT certification, mobile/SNG certification, and SatOps/NOC certification courses are included. Subscribers have open access to the growing library, which currently stands at over 250 intensive learning hours and $5,000 tuition value, for a monthly cost of only US$29—or even less with developing country, NGO, and volume discounts.
Also included for subscribers, as well as current active GVF learners, is access to the new, fully-moderated Experts Forum, monitored by the SatProf instructors and guest experts, to discuss questions with fellow learners and the SATCOM community. In addition, Knowledge Center access can be provided under a site license at a flat annual rate for an entire organization. That makes it ideal not only for budget planning, but for staff development, as learners may readily engage in the specific training and certification they need to support changing responsibilities.
"The GVF Training Program has reached a level of maturity and breadth that makes it ideal to serve as the primary, always-available knowledge resource for technical and other SATCOM professionals," said David Hartshorn, Secretary General of the GVF. "With the inauguration of the Knowledge Center program, learners stay engaged by revisiting past courses, practicing their skills with simulators, taking certification and re-certification exams, growing their expertise into new areas, and sharing questions and knowledge with colleagues and experts, all at any time, and all at a remarkably low, flat-rate subscription cost. The Knowledge Center, with the subscription and site license options, gives GVF member organizations an even easier path to Accredited Organization for Training status, which gives differentiation to the organization and reinforces the strength of the SATCOM industry, particularly in interference prevention."
If you are a past GVF student, access to all the latest versions of your past courses, plus many more to explore, are available as is certification renewal. Current and new students are also most welcome to join. To subscribe, please visit http://www.gvf.org/training and click on "Subscribe."
For a site license proposal tailored for your organization, please contact Greg Selzer at greg@satprof.com.
For complete information on the GVF certification training program please visit http://www.gvf.org/training.