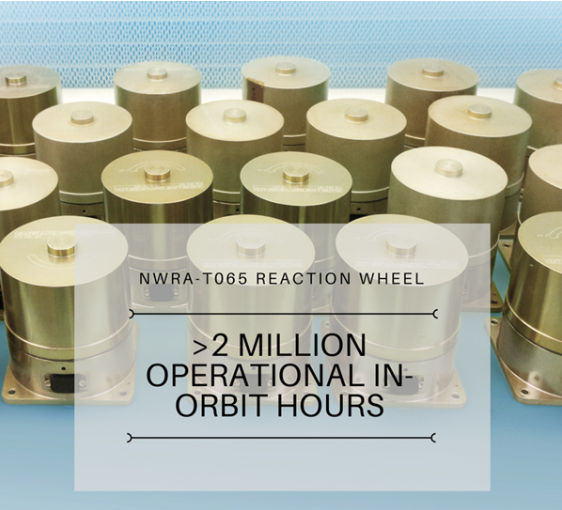 NewSpace Systems is aptly named due to the company's healthy growth and need for a larger New Space facility. In addition NewSpace Systems is celebrating the longevity of the NRWA-T065 Reaction Wheel Product which reached over two million operational hours in-orbit.
The NewSpace Systems (NSS) team recently celebrated a momentous milestone when its NRWA-T065 Reaction Wheel Product reached over 2 million operational hours in-orbit. Having been supplied to a number of international programs the most noteworthy remains the ongoing, failure free, in-orbit operation of 64 of these wheels on a U.S. telecommunications constellation which was launched in 2014/2015.

James Barrington-Brown, CEO stated that the design and manufacture of high-quality products, which are tailored to client requirements, has always been the priority for the NSS team and this milestone has again proved just how robust and reliable their range of ADCS products are.
Predominantly focused on the operational SmallSat constellation market, the NSS team has made use of its 30 plus years of experience in the space industry to find the best compromise between high-performance and affordability. Specializing in high-reliability Attitude Control Systems, and services such as contract manufacturing and technology commercialization, the NSS team have seamlessly blended internationally accredited manufacturing processes and procedures with tried and tested COTS components to offer robust products which remain internationally competitive.
NSS Technicians Undergo ESA Re-Certification
NewSpace Product Assurance Manager, Mr. John Moth, is an ESA Cat 1 instructor who continues to re-certify the NSS technicians and assembly staff, as required, to ensure the continued high-quality of the NSS product range. This ongoing up-skilling is also a vital part of the NSS's corporate social responsibility program.
Facility Expands and then Expands Again
In addition to the doubling in size of the existing NSS manufacturing facility to cope with the higher volume requirements of the international constellation programs; the NSS facility will soon be expanded again. This time to include more extensive AIT facilities. With the uptake by NSS clients in services such as contract manufacturing, the NSS team are increasingly working with global Primes to enable the success of their mission(s)/constellations.
Beyond just supplying them with ADCS components, NSS is providing these Primes with access to a low cost manufacturing environment that meets the most stringent international quality standards and thereby ensures them of mission performance while keeping within budget.