Special Aerospace Services LLC (SAS) commemorated the 50th Anniversary of the Apollo Moon Landing with the unveiling of a restored Apollo 16 test capsule.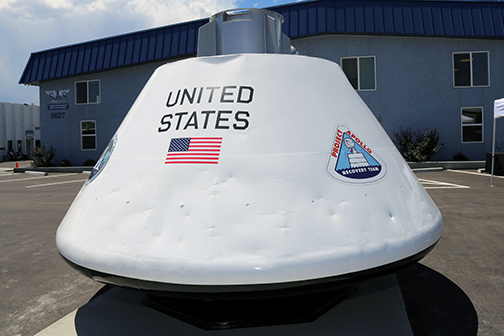 The spacecraft will be displayed permanently at the SAS Flight Factory in Arvada, Colorado, where engineering design work for future lunar missions is now underway. SAS unveiled the restored Apollo 16 test capsule at a July 16 ceremony attended by many guests including Arvada Mayor Marc Williams, a representative of U.S. Sen. Cory Gardner, and executives from Colorado aerospace companies.
Headquartered in Boulder, Colorado, SAS is a tactical engineering firm providing a lifecycle of engineering, research and development, rapid prototyping and precision manufacturing services. The SAS Flight Factory in Arvada is an AS9100D certified design, manufacture, assemble and test facility that bridges the gap between design & engineering and prototyping and production. The facility is equipped with state-of-the-art additive manufacturing and 3D printing systems in addition to assembly and hardware testing centers.
NASA built the Apollo 16 test capsule to train U.S. Navy personnel tasked with recovering the command module and its astronaut crew after splashdown in the Pacific Ocean. Launched on April 16, 1972, Apollo 16 was the fifth, and penultimate, U.S. mission to reach the lunar surface. The crew included Commander John Young, Lunar Module Pilot Charles Duke Jr., and Command Module Pilot Thomas "Ken" Mattingly II.
The Apollo test capsule is on display for the general public to view in front of the SAS Flight Factory located at 5627 Kendall Court, Arvada, CO 80002.
Heather Bulk, SAS CEO and Co-Founder, said the Apollo program endures as a milestone in engineering achievement. Putting this historic capsule on display in Arvada spotlights Colorado's vibrant aerospace ecosystem which is playing critical roles in new space programs that are destined to reach the Moon and beyond.