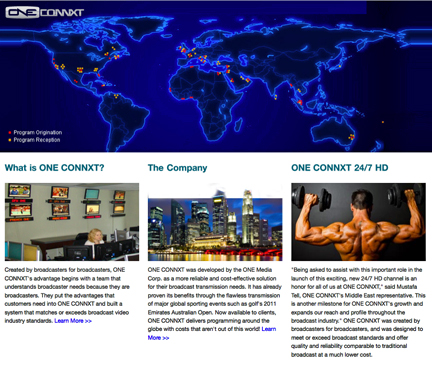 [SatNews] ONE CONNXT is providing primary live video transport for the Asian Football Confederation's 2014 Challenge Cup in the Maldives—ONE CONNXT previously provided video transport service for the 2013 AFC Challenge Cup from Nepal.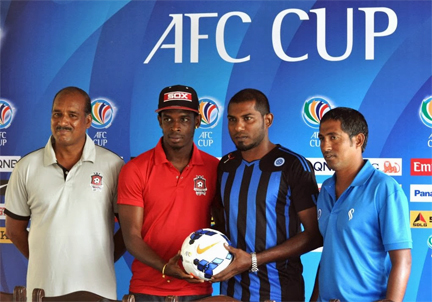 The AFC Challenge Cup is being held May 19-30 for emerging Asian football countries. The winner of the final match on May 30th will qualify to join defending champions Japan, Jordan and Iraq in Group D at the AFC Asian Cup Australia 2015. The championships will be transported from the two venues in the Maldives to World Sports Group in Singapore, and then further distributed from Singapore to broadcast outlets in the countries of all participating nations.

In addition to the 2013 and 2014 AFC Championships, ONE CONNXT has successfully provided video transport services for several other sporting events including the NY Cosmos friendly video from Dubai, AFC Champions League and World Cup 2014 qualifying matches, the Yomiuri Giants' 2013 and 2014 baseball season, the 2013 French Open, golf's Emirates Australian Open and 2012 Enjoy Jakarta Indonesia Open.
"This is a tremendous opportunity to provide coverage of these 16 participating teams to valued fans and their home countries," said ONE Media Corp's Chief Executive Officer Dave Almstead. "We are extremely pleased to have been selected to deliver the primary transport for the AFC Championships for the second consecutive year featuring use of our portable encoders. ONE CONNXT offers reliable, flexible and cost effective service for the most valuable video transport."

ONE CONNXT, a division of ONE Media Corp Inc. is an award winning, end-to-end, HD/SD content distribution service that provides high quality live and recorded video programming virtually anywhere in the world with significant savings over satellite or fiber. Video can be delivered either point-to-point or point-to-multipoint using ONE CONNXT's proprietary IP solutions. Our service enables clients to successfully reach more locations with higher operational flexibility, strong reliability and reduced delivery costs. ONE Media Corp owns and operates ONE World Sports, a global sports network; America ONE Television, a general entertainment and sports broadcast network; and America ONE Sports, a leading provider of live broadband sports.
The Asian Football Confederation (AFC) is the governing body of Asian football and one of the six Confederations making up FIFA. Formed in 1954 in Manila on the sidelines of the second Asian Games, and sanctioned by FIFA in Berne Switzerland on June 21 of that year, the AFC is now headquartered in Kuala Lumpur, Malaysia and consists of 46 Member Associations and one Associate Member Association (The Northern Mariana Islands). The AFC is responsible for running football in Asia. Among its various responsibilities are: regulating the game, drafting new laws to improve the sport, implementing the law, boosting grassroots and youth football, and conducting major competitions.
The ONE CONNXT infosite may be viewed at http://www.oneconnxt.com/