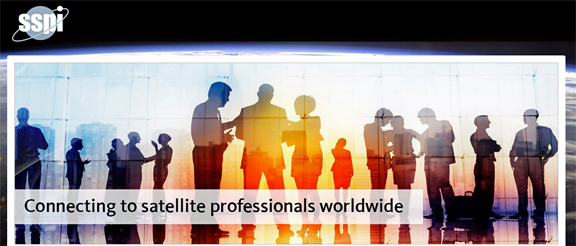 [SatNews] The Society of Satellite Professionals International (SSPI) has announced the appointment of Chris Stott, Chairman & CEO of ManSat, as the new Chairman, and Bryan McGuirk, COO of ViviSat, as President of its Board of Directors—their one-year terms began on March 19.
SSPI also announced the election by the membership of two new directors. David Kagan, President, ITC Global, and Carmen González-Sanfeliu, Regional Vice President, Latin America & Caribbean, Intelsat. They were elected to serve three-year terms beginning March 19.

Ms. González is filling the seat vacated by Dianne VanBeber, Vice President of Investor Relations and Communications for Intelsat, who stepped down at the end of her second term. She has served SSPI as President and Chairman of the Board for the past two years and oversaw a significant expansion of the Society's programs.
SSPI's Board of Directors represents a cross-section of the commercial satellite business, from manufacturing to launch to services. Continuing their service on the Board are:
Dawn Harms, Vice President of Business Development, Boeing Space Systems International (Treasurer)
Tony Rayner, Chief Operating Officer, Eutelsat America (Secretary)
Michael Aloisi, Vice President, Distribution Technology, Satellite & Affiliate Services, Viacom Media Networks
Christine Erhenbard, Director, Broadcast Distribution, CBS
Ed Giovannini, Vice President, Sales, CBL RNAM, Ericsson
Erwin Hudson, Program Manager, ViaSat
David Myers, President & CEO, Datapath
Dave Rehbehn, Senior Marketing Director, Hughes Network Systems
Thomas Van den Driessche, Chief Commercial Officer, Newtec
Bill Weller, Vice President, Marketing & Sales, Space Systems/Loral
Alan Young, Chief Technology Officer, Encompass Digital Media
Elias Zaccack, Senior Vice-President, Commercial, Americas, SES
Effective with the March 19 Board meeting, SSPI also appointed as its General Council the respected industry attorney John Hane of Pillsbury Winthrop Shaw Pittman. He is taking the place of SSPI's longtime General Counsel, Bruce Jacobs, who now serves as Chief, Spectrum Enforcement Division with the Federal Communications Commission.
More about Chris Stott
Chris Stott has been a member of SSPI for more than 20 years, a Board member for the past five years and also serves as Chairman of the organization's Isle of Man chapter. Chris was one of the forerunners of the Isle of Man's space industry, setting up ManSat in 1998. Since 2000, the company has carried out satellite filings for the Island under a contract with the Isle of Man Government's Communications Commission. He is a longtime supporter of space and STEM education and serves on the Boards of organizations including the International Space University, Challenger Foundation, Conrad Foundation, the United Space School and the International Institute of Space Commerce. He serves in addition as Co-Chair of the Manna Energy Foundation and Geeks Without Frontiers, and on the faculties of the International Space University and Singularity University.

More about Bryan McGuirk
As Chief Operating Officer of ViviSat, Bryan McGuirk leads the commercialization of the company's pioneering satellite life extension services. Before joining ViviSat, Bryan served in various management roles at SES. Hired in 2003 as Senior Vice President, he led the sales and marketing of its 16 US satellites to the Media and Enterprise sectors. He became President of the Media and Enterprise divisions of SES Americom in 2005, and served on the Board of SES Americom from 2009 to 2010. During 2010, Bryan also served as Senior Vice President of newly formed SES WorldSkies, managing teams in Princeton, NJ and the Hague, Netherlands. Prior to his satellite career, Bryan worked in management distribution positions for Open TV, NBC and Turner Broadcasting.

More about David Kagan
David Kagan was appointed as President of ITC Global in August 2014. Prior to joining the company, David built a reputation as an operationally savvy executive, enabling fast growing companies to provide exceptional customer service. Most recently, Mr. Kagan served as President and CEO of Globe Wireless, where he drove substantial growth, efficiencies and profitability improvements through an operational infrastructure that supported over 6,000 ships and vessels worldwide. The company was sold to industry leader Inmarsat in January 2014. Prior to Globe Wireless, Mr. Kagan spent 12 years as President and CEO of MTN, a leading provider of satellite communications to the cruise, oil and gas, super yacht, and military markets, which he joined after 10 years in management with Norwegian Cruise Line.

More about Carmen González-Sanfeliu
Carmen González has over 25 years experience in the satellite industry and is responsible for INTELSAT's sales activities in Latin America and the Caribbean. As Vice President of the region, she leads a sales force with offices located in Miami, Brazil and Mexico that contribute over $500 million in revenues. The customer base extends to broadcasters, carriers, multinationals and government agencies. Born in Venezuela, González's education includes an MBA magna cum laude from George Washington University and a BA from Georgetown University along with Independent Marketing Studies at Oxford University.
More about John Hane
John Hane is a partner in the Pillsbury Winthrop Shaw Pittman's Communications practice and is located in the Washington, DC office. He concentrates on transactions, spectrum licensing and special projects in electronic media, satellite and wireless communications. He writes and speaks often on broadcast, spectrum and technology issues, and is frequently quoted in communications and technology industry trade press on matters ranging from spectrum allocations to television program carriage. Mr. Hane has been quoted in The Wall Street Journal, the Los Angeles Times, The Washington Post, and other leading newspapers.

About SSPI
The Society of Satellite Professionals International (www.sspi.org) promotes the growth of the satellite by educating current and potential end-users and the general public about the indispensable contributions of satellites to business, government and human welfare, and by connecting satellite professionals worldwide through education, knowledge-sharing and fostering professional relationships. Publisher of the only international study of the satellite workforce, SSPI also leads a consortium of industry associations and organizations to promote the ways satellites make a better world. More information on the Better Satellite World campaign is available at www.bettersatelliteworld.com.