ORBCOMM Inc. (Nasdaq: ORBC) has been selected by Chief Express LLC to provide in-cab solution for their trucks and the trailer monitoring solution for their dry van fleet.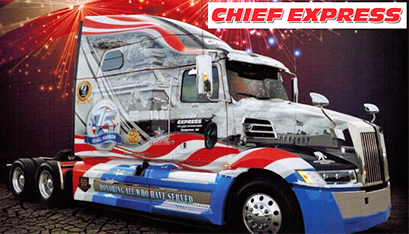 ORBCOMM's end-to-end solutions provide wireless connectivity through its industry-leading hardware and integrated Cloud-based analytics platform and information management engine for optimal fleet management.
Chief Express is using ORBCOMM's driver-friendly, in-cab solution to gain complete visibility, monitoring and management of their drivers and trucks. ORBCOMM's in-cab solution delivers GPS fleet tracking and connects to the truck's CANbus to seamlessly collect important data from the engine, brake systems, fuel tanks and more, providing access to deep analytics and reporting via FleetManager, ORBCOMM's newest web platform.
By automating hours of service calculations, ORBCOMM enables Chief Express to comply with the Electronic Logging Device (ELD) and FMCSA Hours of Service (HOS). ORBCOMM's in-cab solution also helps Chief Express improve driver safety by providing live, on-board driver performance scoring and correcting unsafe driving behaviors that lead to accidents, fines and higher insurance. ORBCOMM's platform enables Chief Express to decrease operating and maintenance costs and improve productivity through real-time asset management, reduced risk of fuel loss and preventive maintenance as well.
To manage its dry van fleet, Chief Express is using ORBCOMM's ruggedized trailer monitoring solution along with FleetManager to access live and scheduled status updates whether their trailers are in transit or in the yard. ORBCOMM's solution also provides Chief Express with the unique ability to see precise data on distance traveled by each trailer so they can accurately schedule trailer servicing and inspections based on odometer readings or time elapsed for maximum asset utilization.
In addition, Chief Express is using an integration that links ORBCOMM's FleetManager data from its truck and trailer assets to its McLeod Software dispatch and enterprise management solution for a centralized view, further enhancing workflow productivity, communications and customer service.
Executive Comments
Marc Eisenberg, the CEO of ORBCOMM, said the firm is pleased to have won both the in-cab and trailer business for a leading truckload carrier like Chief Express, which reaffirms the company's unique competitive advantage and leadership in this market to provide telematics solutions for nearly every transport asset class through one integrated platform,.
Kennan Hill, President and Owner of Chief Express LLC, added that ORBCOMM's advanced telematics solutions for trucks and trailers are better than anything the firm had seen on the market and their fleet management portal and driver-friendly in-cab product are light years ahead of the competition in terms of features, functionality and usability — the company is already seeing bottom-line benefits by improving ELD compliance, driver performance and overall operational efficiency.