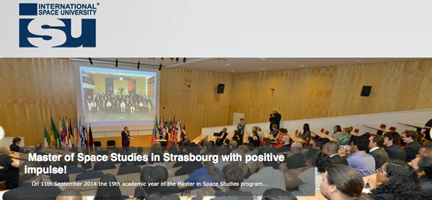 [SatNews] On September 11, 2014, the 19th academic year of the Master in Space Studies program started at the International Space University (ISU) in Strasbourg.
This start was characterized by encouraging news:
The SSP session this summer in Montreal counted 123 participants, a number which was higher than expected
For the present Master class, depending on the number of later arrivals, the class size has grown with approximately 20 percent compared to last year, with participants coming from 19 countries
In particular, a large number of participants from emerging space countries, like e.g. India, is very encouraging
The ISU building is accommodating a new laboratory specialized in solar cell efficiency research
Also other start-ups, in the field of renewable energies, are now collocated in ISU, reinforcing the link between space and sustainable development
For the first time in its existence, ISU has an Australian Visiting Professor in its resident faculty
Remarkable in the speeches was the statement from Dr. Gruppe, Member of the Board of DLR, the German Space Agency, that in Germany the biggest employer of space engineers was… Mercedes. This clearly illustrates that training in complex systems, such as space systems, can also easily facilitate a transfer to other sectors such as the automotive sector for the trained workforce. He also encouraged the participants to show a strong entrepreneurial drive, compatible with the New Space economy.

The new Master class will tackle two topics as Team Projects in the coming year. One theme is directed towards Earth's today issues, one theme is oriented towards the future:
Global Water Initiative—Fresh water is abundant available but not always when and where it is needed. Climate change will strongly influence this, and the team will therefore examine how space applications can assist in this.
Extra-Solar System Exploration—Interstellar travel is not likely to happen in the near future given today's technologies. However this century will provide some fundamental breakthroughs that will enable the development of propulsion and energy generation systems for interstellar travel, with interesting potential spin-offs for terrestrial energy management.
ISU President Prof. Peeters expressed his satisfaction on these successes: "Although early, it looks like we see a confirmation that a revival of hi-tech activities is expected, and that the next generation of specialists is interested in gaining additional know-how on complex systems and its interaction with regulatory and economic environment. Space activities are a prototype of this due to the limited repair possibilities once an object is in space, and therefore requires the highest standards of system design and quality assurance, these standards can be applied in other sectors, giving our alumni increased chances on the job market,"

CUS Vice-president C. Trautmann is pleased with these evolutions: "More than 15 years ago it was my vision to bring ISU to Strasbourg. There have been difficult moments and it is with tremendous pleasure that I now see how ISU is been given a new impetus. My next objective is to see how to better integrate ISU in the local infrastructure of the Parc d'Innovation. It is clear to me that ISU could be an excellent partner with the entities in the Parc, working in the direction of a better and greener environment. I will undertake the challenge to work towards such synergy and we will start discussions with the ISU management to solidify and facilitate the stay in Strasbourg via a new lease agreement.
The ISU infosite is located at http://www.isunet.edu/ for additional information.