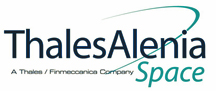 [Satnews] The countdown has started for the ExoMars mission, which is now ready to be launched on March 14 from the Baikonur Cosmodrome in Kazakhstan via a Proton Breeze M rocket.
Thales Alenia Space, as prime contractor, has put all the best of the technology to serve this extraordinary adventure. The vehicle dedicated to this fascinating journey to the Red Planet is composed of an orbiting module, called TGO (Trace Gas Orbiter), integrated at the Thales Alenia Space plant in Cannes, and a descent module, called EDM (Entry descent landing Demonstrator Module), built at the Thales Alenia Space plant in Turin. The latter module is named Schiaparelli in honor of Giovanni Virginio Schiaparelli, considered one of the greatest figures of Italian astronomy of the nineteenth century and at the same time one of the greatest scholars of history, science and ancient astronomy.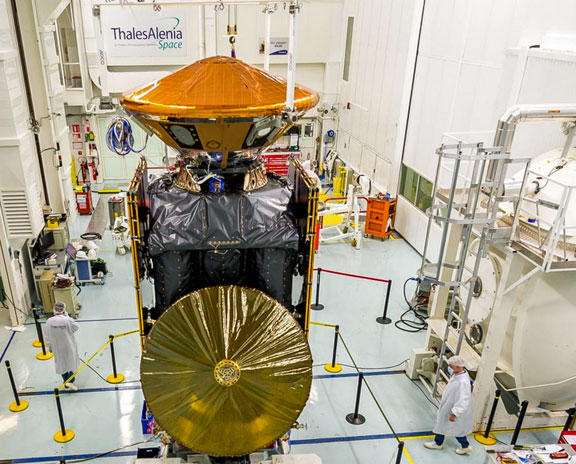 The goal of this mission is to study the Martian atmosphere and demonstrate the feasibility of several essential technologies for the entry into the atmosphere, descent and landing on Mars.

A second mission will follow and will include an autonomous European rover capable of collecting soil samples at a depth of two meters and analyzing its chemical, physical and biological properties.
The two ExoMars missions are expected to play a fundamental role in our search for the origins of life. They may well help to discover if life ever existed on Mars, or even if microbial life forms exist today. But to do so, it is absolutely essential that the landing spacecraft itself not contaminate the planet. Therefore, for this first mission, the last contamination tests of the Schiaparelli module are carried out right on the launch pad, just before the launch. This module was previously integrated in clean rooms specially configured to detect the slightest trace of bacteriological contamination, using procedures similar to those in the pharmaceutical industry.
The ExoMars program is the result of an international cooperation between the European Space Agency (ESA) and the Russian Space Agency (Roscosmos), strongly supported also by the Italian Space Agency (ASI), which also developed the INRRI laser micro-reflector (INstrument for landing-Roving laser Retroreflector Investigations)The program is developed by a European consortium led by Thales Alenia Space Italia that involves around 134 space companies of the ESA partner countries. Finmeccanica's Avionics and Space Systems Division, Telespazio through its subsidiary Telespazio VEGA Deutschland are also involved at subsystems and at the mission control level respectively.
Walter Cugno, ExoMars program Director, said, "The spacecraft is now safely installed under its fairing, at the launch site in vast Kazakh steppes, ready for its long journey eleven years after the Cassini-Huygens probe made in Thales Alenia Space a flawless landing on Titan. With ExoMars, Thales Alenia Space is once again playing a historic role, by helping humanity quench our timeless thirst for exploration and supporting our endless quest to find the origin of life. In the face of this extraordinary mission, I can just humbly add 'Go Exomars go' !"