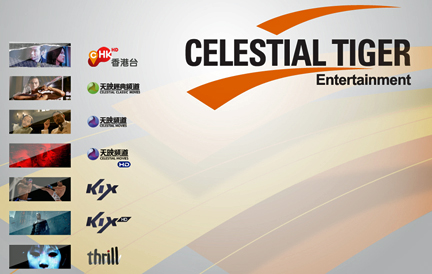 [SatNews] Celestial Tiger Entertainment (CTE) has announced four new carriage deals across Asia that include CTE's first entry into Myanmar and Palau, and two deals expanding the reach of CTE channels in Indonesia and the Philippines.
The newly inked deals cover: CELESTIAL MOVIES (CM), the most widely distributed 24-hour Chinese movie channel in the world; CELESTIAL CLASSIC MOVIES (CCM), the gateway to an array of digitally-remastered Chinese movie masterpieces; KIX / KIX HD, the destination for action entertainment; and THRILL, Asia's only pan-regional horror, thriller and suspense movie channel. The new deals signed are as follows:
Indonesia—K-Vision, a newly-launched payTV platform in Indonesia, will carry CM and KIX. K-Vision is owned by Kompas Gramedia Group, one of the largest media conglomerates in Indonesia.
Philippines—Cignal TV, Philippines' premier DTH satellite provider, signed a deal to carry KIX HD and Thrill. Cignal TV is a subsidiary of MediaQuest Holdings.
Myanmar—4TV, operated by the Forever Group, the leading total media entertainment group in Myanmar, signed a deal to carry CCM. This marks the first time CTE is entering the Myanmar market.
Palau—Palau National Communications Corporation, the Republic of Palau's national carrier for local and international telecommunications services, will carry CCM on PNCC Digital TV. This is also the first time for CTE to enter the Palau market.
Celestial Tiger Entertainment's infosite is accessible via http://www.celestialtiger.com/index.asp