[SatNews] KVH Industries, Inc., (Nasdaq:KVHI) is doubling the capacity for two of the three global C-band beams of its mini-VSAT Broadband(SM) network, further enhancing the world's most extensive C/Ku-band maritime VSAT network.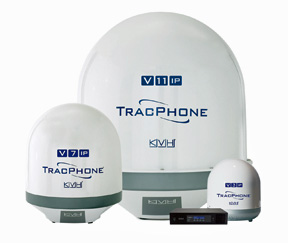 The increased C-band capacity, which will take effect next month, enhances the mini-VSAT Broadband network's multimegabit service covering all major shipping routes, offshore oil fields, and commercial fishing grounds and serving marine operations and vessels around the globe. KVH plans to continue to grow the C-band capacity as needed to meet demand from its growing customer base and maritime operations applications that are increasingly reliant on broadband connectivity.
KVH first introduced C-band overlay coverage to its existing Ku-band network less than two years ago, and has seen installations of its unique dual-mode TracPhone(R) V11-IP satellite communications system steadily increase. This onboard terminal uses a single, 1-meter diameter stabilized antenna with dual-band transmit and receive capability to seamlessly switch between the mini-VSAT Broadband network's global C- and Ku-band satellite coverage, providing reliable onboard network management and crucial continuity for onboard systems that rely on satellite Internet service.
The C/Ku-band mini-VSAT Broadband service provides vessels travelling between 75 degrees N and 70 degrees S latitude with broadband data connections for accessing the Internet or shore-side business networks or for making low-cost, high-quality voice calls. In most areas, the mini-VSAT Broadband service uses powerful Ku-band transponders to provide the TracPhone V11-IP with high-speed downloads at rates up to 4 Mbps.
In addition to providing the widest coverage of any Ku-band maritime VSAT service, KVH's mini-VSAT Broadband network also has wide regulatory approval that ordinary C-band maritime VSAT services are unable to provide due to regulatory restrictions that generally limit their use to 200 km offshore. For coastal and in-port use, KVH's mini-VSAT Broadband network relies on Ku-band coverage, which is generally permitted. In areas outside of its Ku-band coverage and for redundant backup service, the TracPhone V11-IP automatically switches over to powerful C-band global beams. The C-band service also has a much longer wavelength than Ka-band services, providing improved resilience to rain and other adverse weather conditions.