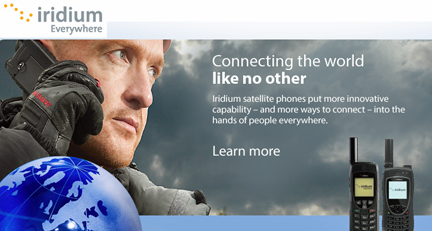 [SatNews] Iridium Communications Inc. (Nasdaq: IRDM) has debuted their Iridium GO!(tm) and two additional products to the market—the Iridium Go™ is the industry's first portable satellite hotspot that connects to any smartphone or tablet, dramatically extending voice and data coverage for personal devices when they are out of range of cellular networks.
Iridium GO! creates a satellite-backed Wi-Fi zone anywhere on the planet, enabling as many asp to five smartphones to make calls, retrieve their email, text and
use some apps, even when terrestrial networks are non-existent, unreliable or costly. This first of its kind product allows users to conduct business, connect with family or access information no matter where they may travel—without the need for a satellite phone.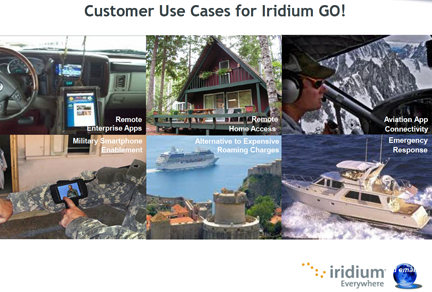 "Iridium GO! expands our portfolio and speaks to both how people use devices today and the growing and changing needs within enterprises," said Matt Desch, CEO, Iridium. "Iridium GO! enables people to use their own trusted devices—their smartphone or tablet—even when they are off the cellular grid, all while maintaining access to their contacts and applications, as well as reliable voice and data services. It is also the lowest cost device and service offering that Iridium has ever made, making truly global coverage more affordable than ever."
Iridium GO! is also a powerful platform for developers. Created to be flexible, Iridium is licensing the capability to allow app developers to use the Iridium® satellite network through Iridium GO! to tailor their products to meet the needs of organizations or individuals, and extend the capabilities of the product even further.
Iridium GO! is incredibly simple to use, raising the antenna turns on the device, which then automatically connects to the Iridium network and establishes a Wi-Fi connection. By using a special Iridium GO! app on their device, individuals can then use their phone or tablet to make voice calls, text, send their precise location to family and friends and even report a personal emergency through an available SOS service.
Several key features are built into the product. Like Iridium's satellite phones, Iridium GO! is designed to be rugged; it is built to withstand rain, sand, dust and rough use. The included SOS functionality creates a fast, two-way connection with an emergency provider—bringing peace of mind anywhere in the world.
With a small form-factor, Iridium GO! is highly portable, providing a Wi-Fi network with a coverage radius of 100 feet. Users can connect devices wirelessly without any special adapters and enjoy great voice quality, thanks to the use of optimized audio fidelity of their smartphones.
In addition, Iridium GO! is Iridium NEXT-ready; it works on the current satellite network and will work with the new Iridium NEXT satellites that will launch in 2015.
Travelers to remote countries can keep an Iridium GO! in their bag and instantly connect at a café through their smartphone to text or call family and friends at home. Outdoor adventurers will never have to worry again about missing an important email while back-country camping. The device is also valuable for the military and first responders, as well as for emerging Machine-To-Machine (M2M) applications. Developers in the transportation industry, for example, can link sensors and monitors from their apps in the vehicle through Iridium GO! Iridium GO! will be available during the first half of 2014 through select Iridium distribution partners. For more information on Iridium GO!, visit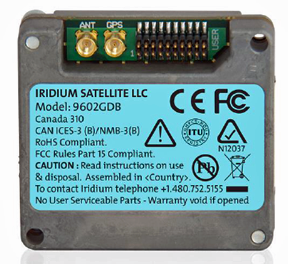 Also debuting is the company's first one-to-many global data broadcast service, Iridium Burstâ" , enabling enterprises to send data to an unlimited number of devices anywhere on Earth whether inside buildings, in-vehicle or in aircraft.
Iridium Burst leverages the high power channels of the Iridium® satellite network to offer a cost-efficient, customizable and low-latency broadcast data service that can provide service globally with high signal penetration capabilities superior to traditional paging and broadcast services. From tsunami warnings to weather and traffic alerts, over-the-air updates and other machine-to-machine (M2M) applications, Iridium Burst presents an unrivaled opportunity for businesses, government agencies, militaries, and other entities needing to broadcast data.
"With the launch of this new broadcast service, Iridium Burst, we are filling a void in the satellite industry," said Bryan Hartin, executive vice president of sales and marketing for Iridium. "Until now, there was no practical, cost-effective option for transmitting data to a large number of remote devices across a country or continent. Iridium Burst provides new opportunities for our partners and their customers alike, by enabling data messaging to tens, hundreds, thousands or millions of devices anywhere on Earth with one transmission. No other network can provide truly global reach and Iridium Burst leverages this unique capability to broadcast data to an unlimited number of devices and will enable new applications for satellite communications that were never before possible."
As organizations worldwide seek ways to quickly and efficiently communicate with people and devices, Iridium Burst's groundbreaking service offers transmissions that are four times more powerful than traditional satellite data services, reaching anyplace on the planet in less than 20 seconds. In addition to penetrating vehicles and buildings, transmissions can penetrate partial obstructions and even weather phenomenon.
Users can target Iridium Burst transmissions to specific devices, within specific geographic locations like towns or states, or to broad areas such as an entire continent. Primary uses for Iridium Burst include:
Alert networks: Government agencies, public safety and emergency response organizations can provide timely and reliable alerts for national disaster and weather warnings, terrorism and security alerts and updates, and Amber or Silver alerts
Private networks: Corporations and other private entities wishing to broadcast specific information to a lot of their assets. For example, advertisers updating electronic billboards; software updates, shipping and maritime companies dealing with logistics, fleet updates, and M2M devices
Command and control: M2M data and messaging sent to assets deployed in various locations. Military organizations that need to communicate in a timely, reliable and survivable manner to manage their troops and resources, such as ground troops in combat zones or supply vehicles in remote areas
Maritime safety: Maritime agencies notifying rescue ships using Global Maritime Distress and Safety System (GMDSS) of ships in distress. Rather than having to contact each ship separately, all ships within the relevant area can be contacted simultaneously with one Iridium Burst transmission
Iridium Burst is now available as a pay-per-use service compatible with the Iridium 9602GDB receiver, and in future devices from Iridium and Iridium partners.
The third new offering from Iridium finds an expansion of the company's Iridium OpenPort® service to offer broadband communications to terrestrial users with the launch of Iridium Pilot® Land Station.
For the first time, many remote individuals and businesses, working vehicles and off-the-grid locations can obtain reliable Internet connections and voice calling no matter where they are located. Whether deployed as a fixed installation or vehicle-mounted for communications on the move, Iridium Pilot Land Station is an easy-to-install communications platform that makes connections where no other choice exists. Iridium Pilot Land Station provides pole-to-pole coverage, broadband data speeds, with independent voice lines for simultaneous voice and data communications. The ruggedized hardware uses the proven Iridium OpenPort broadband service, allowing operation in extreme weather conditions, making it the obvious choice for users with critical communications requirements.
"Iridium OpenPort has proven to be a great solution for maritime and aviation customers, and we expect to have the same success in the terrestrial market as well," said, Bryan Hartin, Iridum's executive vice president of sales and marketing. "Iridium Pilot Land Station is another example of Iridium's strategy to provide cost-effective communications solutions for all types of users around the globe."
Iridium Pilot Land Station has a variety of potential uses, including:
Disaster recovery: Governments and emergency response organizations can quickly deploy Iridium Pilot Land Station to restore voice and Internet connections in stricken areas.
Remote education or humanitarian missions: For organizations providing education or humanitarian aid in countries without reliable telecommunications infrastructure, Iridium Pilot Land Station enables the communications they need to stay organized.
Science and exploration: Explorers and scientists can work from anywhere on the planet, easily staying in contact with colleagues. This is especially important when exploring remote, treacherous areas where other satellite coverage falters.
Business continuity: Whether due to an earthquake or a power outage, companies, governments and other organizations can rely on Iridium Pilot Land Station to provide a diverse connectivity solution independent of terrestrial infrastructure.

The Iridium® global network provides reliable communications solution for locations beyond 75 degrees North and South, and is a proven technology backed by years of testing and use. The unique Iridium constellation of 66 cross-linked Low-Earth Orbit (LEO) satellites provides coverage over the entire globe and there is no need to establish line-of-sight. Available immediately, Iridium Pilot Land Station redefines the entry price point for satellite broadband communications. Iridium OpenPort provides a range of provisioning and pricing options for voice and data services depending on individual needs. For more information on how and where to purchase Iridium Pilot Land Station, visit the Iridium website at.