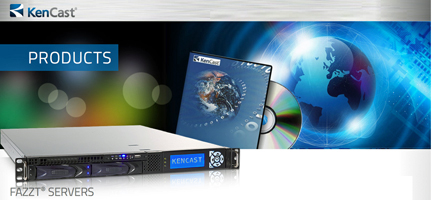 [SatNews] KenCast has been awarded a contract by SSL Digital (Satellite Store Link) for KenCast's Fazzt(r) system to deliver digital video and signage content to 1,400 locations for Banorte Ixe, the third largest bank in Mexico.

SSL Digital will manage the network, leveraging features of KenCast's Fazzt® Enterprise Server and Professional Clients, distributing training videos, advertising and other visual content to bank customers and employees. Terminals will be installed by SSL Digital at more than 1,300 Banorte Ixe branches plus corporate buildings across the country. KenCast's Fazzt technology delivers digital signage content to many locations via satellite multicast—protected, targeted and ensured—while also offering terrestrial delivery unicast capabilities.

"The usability and flexibility of the Fazzt delivery system allows us to manage the content delivery and bandwidth effectively, and will help us to grow and tailor our network to deliver quality and enhanced services to clients such as Banorte Ixe," said William Narchi, CEO of SSL Digital.
The KenCast infosite is located at http://www.kencast.com/