Infostellar has entered multiple partnership agreements with mission control software providers to pre-integrate StellarStation into their software products.
These partners include Bright Ascension and Spaceit. StellarStation has also been deemed compatible with GMV's software products and can be integrated in the future according to customer demand. As a result of this partnership, users of these mission control software products will have the option of choosing StellarStation as a ready-made ground station network without worrying about custom integration. This minimizes the time and investment needed to secure ground services, allowing users to focus on the main developmental challenges of their missions.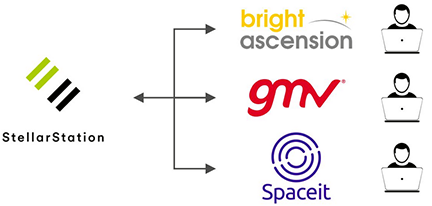 By pre-integrating mission control software and ground station networks, Infostellar hopes to minimize labor and lead time for satellite operators.
Bright Ascension was founded in 2011 to offer a fresh and innovative approach to space software — the company's team has a wealth of experience from the space industry and other high-technology sectors that enables end users to get the maximum capability out of their software, satellites and subsystems. Through a set of software products and services, Bright Ascension is able to offer industry-leading space software technology to enable innovative missions of all sizes.
GMV is a privately-owned technology business group founded in 1984 and trading on a worldwide scale in the following sectors: Aerospace, Defense and Security, Cybersecurity, Intelligent Transportation Systems, Automotive, Telecommunications and IT for public administration and large corporations. According to the company, GMV is the world's first independent supplier of satellite control centers for commercial telecommunications satellite operators and is also a European leader in satellite navigation systems (EGNOS and Galileo).
Spaceit is a space tech company providing cloud-based satellite operations. The company offers Mission Control as a Service (MCAAS), a one-stop solution for satellite ground communications. Spaceit is focused on providing solutions to satellite missions, value creating activities to ground communication equipment owners. The firm's MCAAS is designed to save time and resources of different participants engaged with space missions.
Infostellar is a satellite communications infrastructure provider developing a quick and flexible ground station network called StellarStation. By lowering barriers to entry in the ground segment, Infostellar empowers new space startups to build better missions and improve the quality of their service. Founded in 2016, Infostellar is headquartered in Tokyo, Japan.