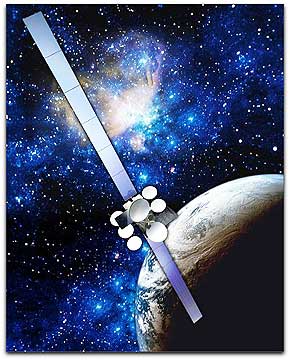 Boeing [NYSE: BA] has shipped DIRECTV 12 from the Company's satellite manufacturing facility in El Segundo, California, to the Baikonur Cosmodrome launch facility in Kazakhstan.
Upon arrival, the satellite will undergo final preparations for a December launch aboard an
International Launch Services
Proton/Breeze M
rocket.
DIRECTV 12
is the 11th satellite
Boeing
has built for the nation's No. 1 satellite TV service, enabling
DIRECTV
to continue to broaden its lineup of digital television programming services and expand its customer base. The new satellite will increase DIRECTV's HD capacity by 50 percent — when combined with the
DIRECTV 10
and
11
satellites that launched in 2007 and 2008, will enable DIRECTV to deliver 200 national and 1,500 local HDTV channels to millions of U.S. households. DIRECTV 12's national and spot-beam Ka-band payloads are designed to receive and transmit programming throughout the continental United States, Alaska and Hawaii.