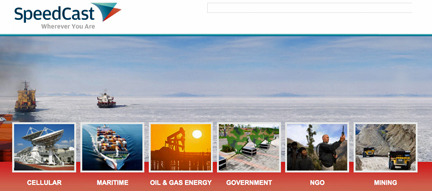 [SatNews] SpeedCast International Limited (SpeedCast) has entered into an agreement with O3b Networks ("O3b"), where O3b will provide capacity for Papua New Guinea via its innovative Medium Earth Orbit (MEO) satellite constellation.

The new service based on O3b capacity will address the growing demand from SpeedCast's customers in the region and marks the continuation of SpeedCast's leadership in the Australia-Pacific region. The O3b-based service will allow SpeedCast to deliver high throughput and low latency Internet services to local customers. SpeedCast's high bandwidth new IP Trunk from Port Moresby to the international Internet backbone will enable high throughput voice and data services, whose performance will be similar to or even exceed that of traditional fiber connectivity. O3b's MEO configuration provides unprecedented low latency in satellite communications of less than 150 milliseconds.
The new network will complement SpeedCast's existing global network, which uses traditional Geostationary Earth Orbit (GEO) satellite capacity and is the basis of SpeedCast's comprehensive coverage. SpeedCast's traditional network will further serve as a redundant back-up solution in the event of a primary network failure or other type of outage. With redundancy built-in at all layers of its network, SpeedCast can offer its customers unprecedented levels of reliability. O3B has already pioneered this type of innovative satellite communications model in a number of Pacific nations, who are now experiencing levels of performance which they have never seen before over a satellite network.
"As a long-term key player in the PNG market, we understand our customers' business needs and how service availability or speed limitations can impact their business activities. This new investment shows our commitment to the PNG market," said Pierre-Jean Beylier, CEO of SpeedCast. "We are pleased to extend our value proposition in partnership with O3b, to enable our wholesale customers to deliver the highest combination of bandwidth, speed, low latency and availability at a more accessible price for an even wider range of end-users," Beylier added.
"SpeedCast is a leading provider of satellite services in the Australia-Pacific market. O3b is pleased to support their ongoing expansion in Papua New Guinea with a cost-effective solution to extend their coverage with O3b's high throughput, low latency satellite transport," said Steve Collar, CEO of O3b Networks. "SpeedCast's customers in the region will enjoy much improved connectivity with fiber-like speeds with the reach and reliability of satellite," Collar added.
The new partnership with O3b follows SpeedCast's acquisition of a PNG-based telecommunications provider, Oceanic Broadband Services and its new teleport facilities in Port Moresby in 2014, and will expand to other territories in the Pacific.
For additional information regarding SpeedCast, please visit http://www.speedcast.com/
O3b Networks infosite is located at http://www.o3bnetworks.com/