General Dynamics Mission Systems and ND SATCOM recently conducted successful interoperability tests of the Fortress LTE system and the SKYWAN 5G.

The tests demonstrated full interoperability between Fortress decentralized network architecture for autonomous LTE deployables and SKYWAN satellite mesh capabilities for a resilient and bandwidth efficient distributed network of sites with full end-to-end network communications and mobility. The combined platform provides an ideal solution for transportable and fixed LTE networks that are increasingly becoming a technology of choice for military, tactical, public safety and private mobile users.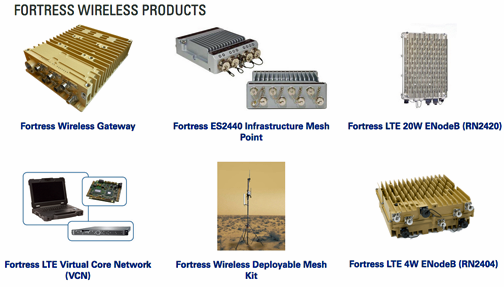 The Fortress LTE solution offers autonomous, decentralized LTE sites providing temporary or permanent coverage. ND SATCOM's satellite mesh network solution combined with SKYWAN 5G supplements the solution, enabling direct, single-hop communication between sites.
Fortress LTE products use IP as a convergence layer. The edge centric capabilities of the Fortress Evolved Packet Core, combined with SKYWAN satellite mesh topologies, significantly improve the user experience with reduced network signaling and single hops between rapidly deployable LTE cells. As a result the OPEX is cut in half which reduces transmission delay and jitter. With QoS mechanisms and real-time services of SKYWAN 5G's MF-TDMA, waveform jitter was validated at less than 10 ms, with an MOS value of four even on overloaded links.
Fortress LTE provides a multi-band capability for global operations making it an ideal fit with the topology flexibility of the SKYWAN solution, including mesh. The low size, weight and power, ease-of- transport, and simplified management of Fortress LTE enables quick deployment of multiple base stations regardless of existing infrastructure. This configuration enables users to roam the network and perform seamless handovers, both inter-cell and inter-EPC with minimal reliance on backhaul links.

Jacek Jarmul, Cellular Backhaul Sales and Business Development Director at ND SATCOM, reported that, over the past month, the company has been actively pursuing the cellular backhaul segment. There is a momentum for the firm's Cellular Backhaul suite (including mesh) in 4G networks which, in comparison to 2G and 3G, can be decentralized and autonomous. This especially applies to portable and deployable systems for disaster recovery, public safety and similar. Following the requests of the company's customers for comprehensive LTE solutions, including satellite backhaul, ND SATCOM selected General Dynamics Fortress LTE Solutions to expand the company's product portfolio and meet customers' requirements.