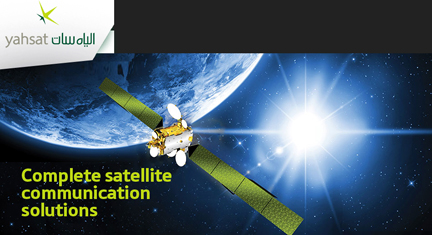 [SatNews] Yahsat plans to launch their third satellite in 2016, extending their commercial Ka-band coverage to an additional 17 countries and 600 million users—this third satellite places Yahsat as the world's eighth largest operator in terms of revenue and as a leader in innovative satellite solutions.
The UAE's investment in space exploration, aerospace and the satellite industry is encouraging a new generation of UAE National science and technology leaders across multiple disciplines. A young company with a work force of over 57 percent UAE Nationals already, Al Yah 3 will create new career opportunities for UAE Nationals, through a new program developed for the Al Yah 3 project, which will allow a select group of students to follow the end-to-end satellite manufacturing process. The students will gain hands-on experience, securing their careers in the industry and building capabilities which benefit the broader UAE technology and aerospace sector.
Al Yah 3 will use the most advanced technology available in the market and will extend the company's commercial Ka-band coverage across the African continent and, for the first time, cover South America. The service will provide wide reaching, reliable and cost effective satellite broadband and internet connectivity to unserved and underserved communities, consumers, enterprises and telecom operators.
Yahsat will soon be announcing its partners for the manufacture and launch of Al Yah 3, and will continue to explore options for the provision of its ground and network system. The company will also continue discussions to finalize its strategic distribution partnerships across Africa and Brazil. Given the unique qualities of each market, the go to market model will be tailored to ensure customer experience and value are optimized.
Al Yah 3 will be an all Ka-band high throughput satellite, with a unique design that optimizes cost, capacity, coverage and flexibility. It will enable delivery of affordable broadband, directly or indirectly to over 600 million users in both continents, specifically covering more than 95 percent of the population in Brazil. This is in line with Yahsat's goal to encourage social and economic development by providing people with a platform to access information, enabling them to enter the digital sharing stage as well as facilitate businesses to expand their network and help create jobs.
Homaid Al Shemmari, CEO of Aerospace and Engineering Services at Mubadala, said, "With the launch of Al Yah 3, we are well positioned to reach our goal of becoming a global leader in the provision of advanced satellite services. The launch of the company's third satellite within less than a decade of operation is a clear signal of the UAE aerospace industry's intentions for the future."
His Excellency Jassem Bu Ataba Al Zaabi, Chairman of Yahsat's Board of Directors, sai,: "The UAE is rapidly developing as a key player in the global satellite industry, becoming the region's hub for satellite innovation. With the support of our leadership, customers, partners and suppliers, Yahsat is the leading regional operator for the deployment of government satellite communication programs, as well as pioneering innovative commercial platforms. The next goal is to make our value proposition a global one."
Masood M. Sharif Mahmood, Yahsat Chief Executive Officer, said, "Al Yah 3 marks another milestone for Yahsat, expanding our footprint to new markets and reinforcing our vision to be the global partner of choice for reliable, innovative and affordable satellite solutions. The success of both Y1A and Y1B in providing government, NGO, consumer and corporate services has given us the drive to explore new growth avenues. Our success is in large part to the world-class international experts and Emirati professionals that work side by side to make Yahsat a truly multicultural company that encourages and drives our employees to meet and exceed challenges with confidence."
The Yasat infosite is accessible via http://www.yahsat.ae/