[SatNews] Harris Corporation, (NYSE:HRS) has successfully completed initial interoperability testing of its widely fielded Falcon III® AN/PRC-117G multiband manpack radio hosting the Mobile User Objective System (MUOS) waveform.
MUOS is the next-generation U.S. Department of Defense military satellite communications system for delivering cellular-based service through tactical radios.
"Harris is rapidly delivering on its commitment to offer the MUOS waveform in AN/PRC-117G tactical radios," said George Helm, president, Department of Defense business, Harris RF Communications. "Simple software upgrades will bring MUOS to more than 30,000 AN/PRC-117G radios already in use, giving the DoD the most cost-effective solution for rapidly transitioning its tactical satellite radio inventory to support this important new capability."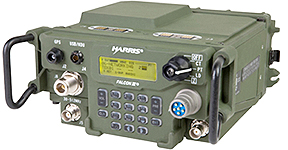 The recent test demonstrated interoperability with the addition of MUOS software to AN/PRC-117G radios that were unmodified from their standard hardware configurations. It was conducted at the Joint Tactical Networking Center MUOS Reference Implementation Laboratory in San Diego, California. Harris now begins a new round of tests of the AN/PRC-117G at the U.S. government MUOS system integration labs in Arizona. The radio successfully completed separate on-air tests last year in San Diego and near the North Pole.
For additional information, please access this direct infopage link.