[SatNews] Indian Prime Minister Narendra Modi and his government have put renewed vigor and impetus into the Indian space program, aiming to revolutionize the country from a satellite telecom perspective with a number of initiatives. One of the most noteworthy of these is the Digital India initiative, a $20B program meant to improve governmental accountability and participation by connecting some 1.3 billion Indians to the World Wide Web. One of the greatest challenges this program has faced is the connectivity of India's tens of thousands of villages.
The Old and New India collided last week when, reminiscent of the bureaucratic India that many businesses have come to know as fact, the Indian Department of Space (DoS) denied a request by Hughes to expedite their application for a Ka-band satellite, involving an investment of some $500M aimed at helping bridge the digital divide in parts of India unreachable by terrestrial. While the deal is not believed to be comprehensively dead, it is nonetheless a sharp blow to those hoping the new government would make quick work of India's general apprehensiveness to allow foreign operators into the market with free reign.
Traditional FSS—DTH Leading the Way
Which brings us to the outlook for the market moving forward. Last week's decision can certainly be viewed as a stumbling block for greater openness of the Indian Satcom market, but this should not by any means distract from what will certainly be insatiable demand in the future for a number of applications, frequency bands, and service types. Taking information from NSR's BRICS Satellite Capacity Supply & Demand study, NSR expects C-band demand to be more or less flat, coupled with strong demand growth from Ku-band to the tune of over 100 TPEs of new demand.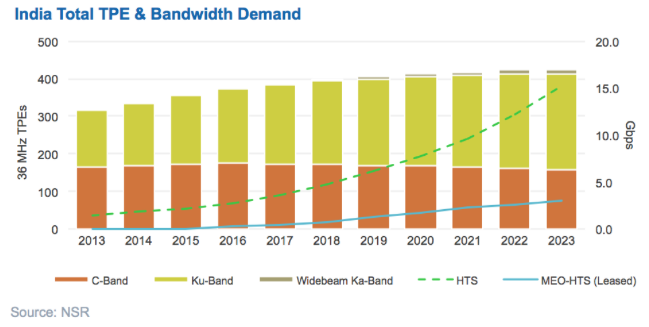 This will be driven largely by India's insatiable demand for DTH content, with the subcontinent currently playing host to no less than 5 DTH platforms. Subscriber growth is no longer the "million new subs per month", but as NSR wrote in an article 18 months ago, there has been an increased degree of customization in DTH offerings throughout the very diverse market that is India. DTH ARPUs will increase impressively quickly from low bases as this industry continues to mature in India, and with Tata Sky and Videocon d2h already wooing Ultra Premium subscribers with 4K rollouts, subsequent TPE demand is expected to increase significantly for some traditional FSS applications. Ultimately, it is expected that much of this DTH demand from new HD and UHD channels will be soaked up by a number of foreign operators entering the market with inexpensive capacity.
HTS—A Potential Wildcard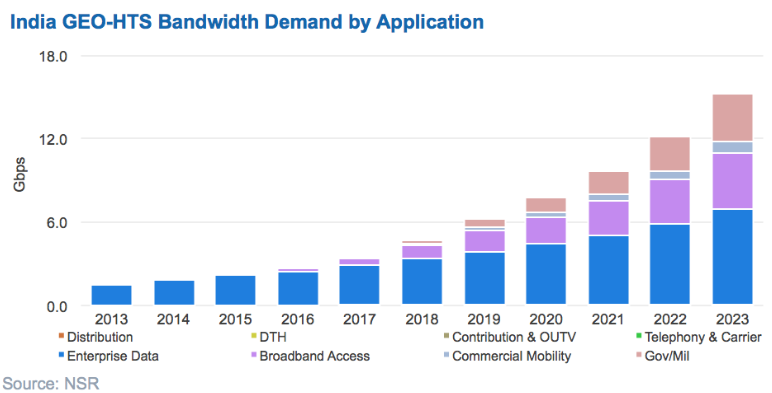 NSR has made conservative estimates for the HTS market in India, which could benefit from significant economies of scale in applications such as Enterprise Data (VSAT Networking for the most part), should a sufficiently large payload be put into orbit over the subcontinent.
As part of the aforementioned Digital India initiative, NSR believes that, long-term, such diverse sub-applications as rural busses, ATM networks, lottery outlets, and the like could be connected via HTS at a scale that would allow for a very intriguing business case. There are an estimated 350 million Indians between the ages of 10 and 25 expected to be connected to the Internet, a population larger than the entire United States. As such, NSR does expect, even at conservative growth rates, over 25% CAGR overall for HTS demand in India to 2023, albeit from a very low starting point of about 1.5 Gbps in 2013. Drivers of growth will largely be Enterprise Data and Broadband Access, but some other high-value applications such as Commercial Mobility and Gov/Mil will provide a solid source of revenues.
Bottom Line
Foremost, it must be understood that these are dynamic, exciting times in the Indian satellite telecom market, with significant pent up demand existing for several applications, most notably broadband/VSAT.
A point of comparison to the current Broadband/VSAT HTS scene in India could indeed be the Indian DTH market of a number of years ago, at which point the floodgates opened shortly after the government relaxed restrictions on foreign entrants to the market. The only question today is how large a flood of demand for Internet connectivity would come about from opening the broadband floodgates?
By Blaine Curcio