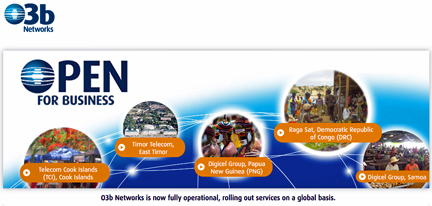 [SatNews] O3b has announced that the launch of the company's third group of four satellites from Le Centre Spatial Guyanais (CSG) at Kourou in French Guiana has been scheduled for December 18, 2014.
The satellites will begin their journey from the Thales Alenia Space facility in Rome to the launch site in early November. Once the launch is successfully completed, the company will have 12 satellites in orbit. Arianespace will deliver the O3b satellites into a circular orbit at an altitude of 8062km with the latest Soyuz launch from the Guiana Space Center in French Guiana, an orbit that is four times closer to the Earth than traditional geostationary satellites, providing O3b customers with substantial performance benefits due to lower latency or delay.
O3b Networks launched commercial service on its state-of-the-art constellation across the Pacific, Africa, the Middle East, and Asia in September of this year and is already delivering more than 4Gbps of high quality connectivity to customers across the globe.
Steve Collar, CEO of O3b Networks said: "These additional satellites will provide more capacity and drive even higher performance. 2014 has been a massively exciting year for O3b, the year in which we launched commercial service and started to truly deliver on the promise that we have made to our customers. Launching before the end of the year will set us up for a spectacular 2015."
The O3b infosite may be accessed at http://www.o3bnetworks.com/