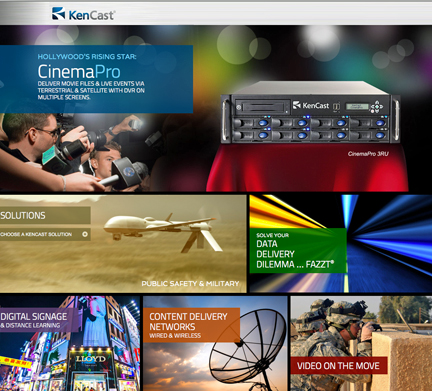 [SatNews] KenCast will exhibit at two leading, international trade shows this June—the company will showcase their digital cinema solutions at CineEurope in Barcelona (June 16-19) and their data and video streaming solution technology at BroadcastAsia2014 in Singapore (June 17-20).
KenCast will showcase their terrestrial delivery and live 4K video decoding solutions at CineEurope. The Fazzt® Enterprise Server running in a Cloud platform in North America will deliver movie files and live 4K video streams to their EdgeSpan® CinemaPro appliance in their booth in Barcelona with a broadband fiber connection using their Blazeband® technology. The exhibit will also feature the new CinemaPro 1RU Decoder, capable of decoding 4K H264 and HEVC video streams. The Fazzt® Enterprise Server and EdgeSpan® CinemaPro is Hollywood's preferred solution powering the backbone of the DCDC (Digital Cinema Distribution Coalition) platform, enabling delivery by satellite or fiber optics of very large file movie files and the streaming of live events into thousands of theaters across North America.

KenCast will showcase their mobile video solutions at BroadcastAsia2014, featuring their VazztPitcher software for streaming files and live feeds to mobile devices. KenCast products with Fazzt FEC® have been used by government and military agencies for two decades to securely send/receive very large data and video files. The long-time content delivery veteran will also feature traditional datacasting, signage and distance learning, as well as live streaming video solutions.

KenCast Chairman & CEO Bill Steele said, "These venues in Europe and Asia enable us to showcase our big screen and our small screen live video streaming for emerging platforms. Viewers at cinemas worldwide are finding enhanced experiences with coverage of live events on the big screen and mobile users are enjoying enhanced playback capabilities on their smartphones and tablets."
The KenCast infosite may be accessed at http://www.kencast.com/