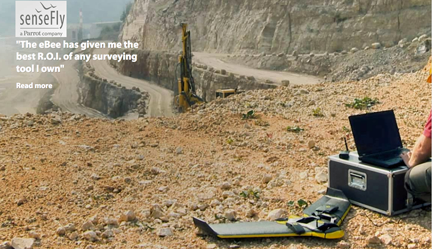 A free, educational webinar on the applications of drones for professional surveying and mapping will be presented by senseFly wherein a presentation will be offered as to how the firm deploys drones for the mapping phases of major infrastructure development projects.
Two experienced commercial operators will lead the conversation. This one-hour webinar, "Drone Surveying 101 – Experienced Operators Discuss Cost, Achievable Accuracy, Workflows and More," will be held on Wednesday, November 16th, at 10:00 a.m. EST/16:00 CET. There is no charge to attend; however, attendees must register in advance via this direct link. The speakers are:
Marc A. Cañas, GISP/MBA, Vice President of National Freight Rail at Jacobs Engineering, will offer insights into how he surveyed 30 miles of the California High-Speed Rail project with a senseFly eBee RTK drone—faster and more cost-effectively than traditional methods.
Aidan O Connor, Managing Director of ASM Ireland, has used drones for survey applications in numerous quarry mapping and large earthwork projects, and he will discuss the efficiency and safety benefits compared to terrestrial methods. Aidan will also describe which types of drones (fixed-wing or multi-copter) are best suited to various remote site survey projects.

In addition, webinar attendees will learn:
How drones can expand their commercial business offering
What it takes to fit drones into an existing geospatial workflow
How regulations can affect professional drone use
What risks are involved in implementing drone technology
Additionally, senseFly's team will provide a glimpse into the company's very newest drone technology: the recently released eBee Plus. This is the first turnkey drone system designed specifically for professional photogrammetric mapping.

www.sensefly.com/