The drone revolution is disrupting industries ranging from agriculture to film making.
According to a new study by PwC on the commercial applications of drone technology, the emerging global market for business services using drones is valued at over $127 billion. With drones poised to have an impact on business operations of companies in a broad range of industry sectors, PwC has also established in Poland a global centre of excellence that uses drones and data analytics to help clients solve their business challenges.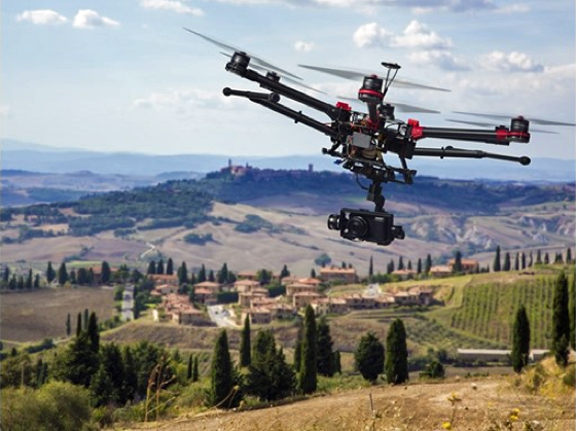 The application of drone technologies in existing business processes is allowing companies from those industries to create new business and operating models. Each industry has diverse needs, and as a consequence requires different types of drone-powered solutions and various drone functionalities. Some of them value flight speed and payload capacity, while others wish to concentrate on solutions delivering high-quality, real-time data in a cost-effective way.
According to the PwC report Clarity from above, the addressable market value of drone powered solutions is over $127 billion. This is the value of current business services and labor that are likely to be replaced in the very near future by drone powered solutions, according to PwC predictions. The industry with the best prospects for drone applications is infrastructure, with total addressable market value of approx. $45.2 billion.
Predicted value of drone powered solutions in key industries—global view ($ billion)
Infrastructure: 45.2
Agriculture: 32.4
Transport: 13
Security: 10
Media & Entertainment: 8.8
Insurance: 6.8
Telecommunication: 6.3
Mining: 4.4
Total: 127.3
Worldwide, drones equipped with cameras and sensors provide companies with more comprehensive data. They are also are involved in the transport and precise operational activities, exerting an increasing influence on business strategies of enterprises.
Drone-powered solutions are best suited to sectors that require both mobility and a high quality of data. Specifically, businesses that manage assets dispersed over large areas have a long history of issues that new drone powered solutions can address. Large-scale capital projects, infrastructure maintenance and agriculture can all benefit greatly from the integration of drones into day-to-day business. Insurance and mining will find potential process improvements as they gain new levels of data quality and accessibility. And the entire transport industry will surely change its concept of last-mile delivery.
One of the primary usage of drones is to supervise the ongoing investments and maintenance of existing infrastructure. Drones are also used in transport, for last mile services, as well as in agriculture, not only gathering and quickly analyzing data on land and crops, but also doing precise spraying of plants.
Drone Powered Solutions is the name of a newly established PwC global center of excellence focusing on the use of drone technology and data analytics in business. It was established in Poland, a country which in 2013 became the first in the world to introduce a complete legal framework and institutions regulating the commercial use of drones. The team has carried out a number of commercial projects for clients in Poland. While they sub-contract the actual piloting of the drones themselves, all the other drone powered technologies have been developed within PwC, such as a geospatial data imaging app that allows the team to present clients with data gathered by drones in a simple and intuitive way on mobile devices.