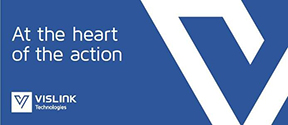 Vislink Technologies, Inc. (Nasdaq: VISL) has announced the firm's official global repositioning to the worldwide market.
After changing the name of its corporate entity from xG Technology in late February, Vislink Technologies is now pleased to inform clients, suppliers and other stakeholders that the firm has united its individual product brand sunder one single Vislink Technologies brand entity.
As the key element of the rebranding, solutions currently marketed under the IMT and Vislink nomenclature, as well as other legacy products such as Advent, Gigawave, MRC, RF Central and Nucomm, all offerings will begin to adopt Vislink Technologies brand names. Product availability, service and support will not be impacted as a result of the rebranding
With offices in five countries, 137 distribution partners around the world and more than 50 years of innovation bred into its DNA, Vislink Technologies offers technology, products and solutions that are ideally positioned to meet global production needs. Through this rebranding initiative, the company will respond to current and emerging technology requirements from its markets, with solutions that embody a clear and consistent brand personality.
Roger Branton, CEO of Vislink Technologies, said this rebranding process is the next logical step in the company's development, which began with the merging of the product offerings and operations of Vislink and IMT in 2017. This marks the firm's evolution into one global company under the name Vislink Technologies, Inc. and allows the company to present a singular, cohesive brand identity and will enable Vislink to communicate with existing and potential clients in a more unified and seamless manner, while still maintaining the company's core values of leadership, integrity, service and quality. In recognition of the refreshed branding, Vislink Technologies has also unveiled an updated visual identity that features its new logo, complete with modernized icon, as well as sub-branding for specialized solution areas, such as Vislink Live Production, Vislink Military and Government and Vislink Satellite. The company's new strapline — "At the Heart of the Action" — reflects the company's commitment to helping customers and audiences become more immersed in the events with which they engage. The company has also launched a single global Web presence, with enhanced content and improved functionality, at www.vislink.com.