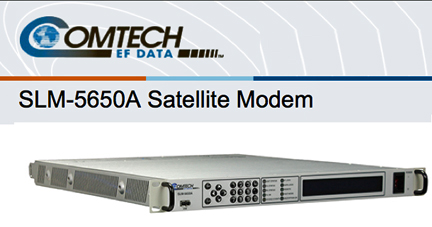 [SatNews] Comtech Telecommunications Corp.'s Tempe, Arizona-based subsidiary, Comtech EF Data Corp., received a $3.1 million order for SLM-5650A Satellite Modems from a government systems integrator.
The modems will be used to support the U.S. Army's Defense Communications and Army Transmission Systems (DCATS) satellite communications programs.
The SLM-5650A Satellite Modem is compliant with the strict requirements defined in MIL-STD-188-165A, modem types I, II, IV, V and VI for applications on DSCS, WGS and commercial satellites. Data rates from 8kbps to 155Mbps and symbol rates from 32ksps to 64Msps are supported. The modem provides standard MIL-STD-188-114 (EIA-530 / RS-422) and EIA-613 (HSSI) serial interfaces, and can be optionally configured to support G.703 and Low Voltage Differential Signaling (LVDS) serial interfaces. It can also be optionally equipped with a 4-port 10/100/1000Base-T Ethernet Network Processor module that supports switching, routing and advanced Quality of Service protocols.
The SLM-5650A can be integrated with the Vipersat Management System (VMS) to provide fully automated network and capacity management. An AES-256 TRANSEC module, compliant with the FIPS-140-2 NIST standard is also available as an option. All traffic (including overhead and all VMS control traffic) is encrypted when using the TRANSEC module.
Additional information is available for review at http://www.comtechefdata.com/products/satellite-modems/slm-5650a