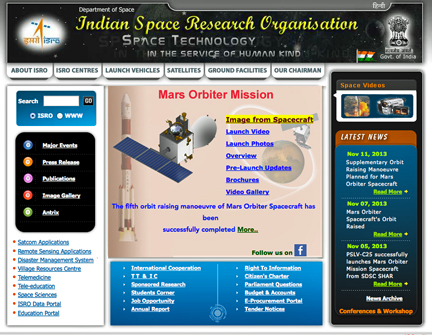 [SatNews] The Indian Space Research Organisation (ISRO) will now launch German, French, British and Canadian satellites, a top official said.
"We will be launching EnMAP (Environmental Mapping and Analysis Program) satellite belonging to Germany. The satellite will weigh around 800 kg," ISRO chairman K. Radhakrishnan told a news agency in an interview.
The EnMAP is a hyperspectral satellite that would provide images of the Earth at regular intervals. This apart, ISRO will be launching French satellite SPOT-7 during the first quarter of 2014, Radhakrishnan said. "There will be four more small foreign satellites that would go along with SPOT-7," he added. ISRO had launched the SPOT-6 satellite in 2012. Radhakrishnan said discussions were held with British agencies for launching three satellites each weighing around 300 kg and also to launch a set of Canadian satellites.
The idea is to have at least one commercial launch every year using the Indian Polar Satellite Launch Vehicle (PSLV), the ISRO chairman said.According to him, the PSLV rocket's reliability has been underlined once again with the launch of Mars Orbiter in a precise manner, despite the challenges. Queried about the status of Mars Orbiter, he said: "The Orbiter has been raised to around 193,000km apogee (farthest point from Earth). We are all gearing up for the dawn of December 1st when the Orbiter will be injected in trans-Martian orbit."

ISRO has been switching on the various systems and payloads of the Orbiter to check their functionalities and health. "All the instruments are working normal. The satellite's health is good," Radhakrishnan said.

India launched its first inter-planetary mission to Mars on November 5th with a two-fold objective—technological and scientific. The project outlay was around Rs.450 crore.

The technological objectives include design and realization of Mars orbiter with a capability to survive and perform Earth-bound maneuvers, cruise phase of 300 days, Mars orbit insertion/capture, and on-orbit phase around Mars. It will also enable deep space communication, navigation, mission planning and management and incorporate autonomous features to handle contingency situations.

The scientific mission will be to explore the Mars surface features, morphology, mineralogy and Martian atmosphere by indigenous scientific instruments.

Radhakrishnan said the Orbiter will be using around 365kg of fuel in the orbit raising activities out of around 850kg fuel on board.

Comparing the latest Mars mission MAVEN of the US, Radhakrishnan said, "The American satellite, weighing around 2,500 kg, carries payload weighing around 65 kg and around 1,600 kg fuel. Our Orbiter weighing 1,350 kg carries a payload of just 15 kg and fuel of around 850 kg," he added.

What he did not compare is the cost incurred in the both the missions. While India will be spending around $72 million the US mission is budgeted at $671 million.

Radhakrishnan reiterated that the Mars mission proves India's capability to undertake such complex tasks.