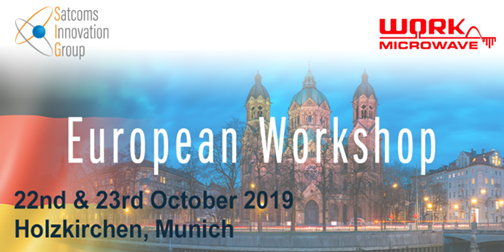 The Satcoms Innovation Group (SIG) is partnering with WORK Microwave to host its European Workshop on 22nd -23rd October 22-23, 2019, in Holzkirchen.
The workshop brings together people working at the operational level of satellite communications to discuss current and future challenges.

The workshop agenda will address the role of innovation in the future of the satellite industry. Industry professionals will explore themes such as space sustainability, small satellites, and the role of satellite for IoT and 5G. It will deliver a range of presentations detailing the latest innovations as well as case studies and open discussion about the challenges facing the satellite industry.

Martin Coleman, Executive Director of SIG, said that bringing operators together to discuss operational challenges and requirements is key to working harmoniously within the industry. These workshops offer members an opportunity to raise important questions about the industry's future, as well as discussing, on an operational level, how to deliver solutions to the challenges being faced.

Thomas Froehlich, CEO, WORK Microwave, added that the company is pleased to be hosting this important workshop at the firm's offices. Within an increasingly faster, evolving, SATCOM environment, it's more important than ever to liaise with other satellite companies to ensure that state-of-the-art technologies and services can be delivered to consumers seamlessly.

To register, visit the SIG events page at this direct link...