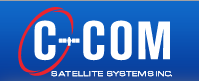 This year at NAB in Las Vegas from April 24-27, C-COM is taking their products to a large outdoor exhibit at number OE826. (Maybe it's just a coincidence, but they are located towards the beer tent.)
C-COM's products can accommodate applications such as:
SNG/Broadcasting
Government
Military
Emergency Response
Disaster Recovery
Oil & Gas Exploration
Mining, Construction
Mobile Offices
Telemedicine
Mobile Banking
and other situations that require a quick setup (using a one button solution for fast Broadband Internet Access over any configured satellite.)
C-COM is on the go and will be available at shows from Dubai (Cabsat) to Vegas (NAB) then Singapore (CommunicAsia) after already appearing at Satellite2017 last month in Washington DC.
At C-COM's NAB booth they will be displaying iNetVu® auto-acquire antenna lineup, including:
iNetVu® FLY-981 - 98cm Ku-band flyaway system, upgradeable to FLY-98H Jupiter Ka-band service Hughes Approved
iNetVu® Ka-1202V -1.2m Ka-band ViaSat Exede approved Driveaway
iNetVu® Manpack - C-COM's first backpack transportable antenna
iNetVu® iNmotion© Ka-band COTM (Communication-on-the-Move) antenna LIVE DEMO.
C-COM designs and manufactures iNetVu® Mobile Antennas
One-button
Motorized
Auto-acquire VSAT System for Reliable Broadband Internet via Satellite
The iNetVu® Ka Band mobile antennas were the first VSAT systems to receive approvals for commercial use from all the major High-Throughput satellite operators, specifically Viasat (EXEDE), Eutelsat (KA-SAT), Avanti (HYLAS) & Yahsat (YAHCLICK). With antennas ranging in size from 75cm to 1.2m, in Driveaway, Flyaway, and Fixed-Motorized format, the iNetVu® Ka-Band product is compact, and highly robust to meet big bandwidth requirements.
C-COM mobile antennas are being used in Ka-Band frequency in North America, Europe, MENA, and Africa. Any Ku-Band customer can potentially become a Ka-Band customer—higher speeds, smaller antennas, lower power requirements.
The systems are
and are available in Ka-band, Ku-band, C-band and X-band, ranging in size from 75cm to 2.4m. The products are designed to perform in the harshest of environments to ensure a company's critical communication requirements.
C-COM's outdoor exhibit number is OE826