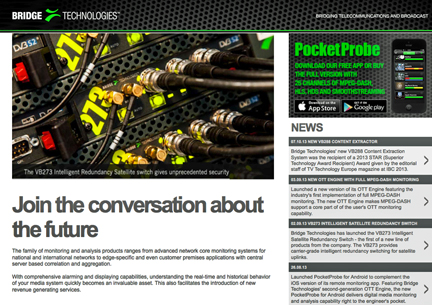 [SatNews] Bridge Technologies creates advanced systems for ensuring high-quality, profitable digital media service delivery in broadcast, cable, satellite, OTT and telecoms applications and will be demonstrating many of their offerings during NAB 2014 at the Las Vegas Convention Center in Las Vegas, Nevada.
New Products for NAB 2014
Bridge Technologies introduces Objective QoE solution – At NAB 2014 Bridge Technologies will show its new QoE (Quality of Experience) solution, enabling operators of Bridge systems to bring the industry's most sophisticated QoS capability together with state of the art QoE monitoring – all running on the same Bridgetech infrastructure, and with support for QoE monitoring of regionally-inserted material.
VB288 Content Extraction System for Objective QoE Monitoring with Remote Videowall Display. At the heart of the Objective QoE system, the VB288 delivers visual content extraction, status displays and alerts to a virtual videowall display that can be viewed through any web browser. Running on a standard high-specification server, the VB288 can power displays of large numbers of HD H.264 channels in multiple browser windows. With an easy 'embedded feel' setup and operation experience, and accessible from any location, the VB288 provides a highly effective validation tool that is easily adaptable to any monitoring strategy, and readily usable by busy engineers on the move.
2nd Generation OTT Engine with MPEG-DASH – Bridge Technologies' 2nd generation OTT Engine makes MPEG-DASH support a core part of of the user's OTT monitoring capability, is compatible with all Bridge Technologies 1G and 10G probes, and part of the iOS and Android PocketProbe mobile monitoring apps. To ensure the widest possible compatibility with future, current and legacy OTT operations, Bridge Technologies' new OTT Engine extends its HLS, HDS, Smoothstream and MPEG-DASH capability by adding support for RTMP, https and subtitle tracks.
VB273 Satellite Redundancy Switch – The first of a new line of products, the VB273 module is designed for Bridge Technologies' new carrier-grade intelligent redundancy switching solution for satellite uplinks. The VB273 module works with a VB272 and VB120 in a redundant chassis to monitor two signals from dual production chains and switch to the backup chain if the main chain fails. A sophisticated automatic decision engine uses Bridge's advanced ETR290 analysis functionality and compares error condition results against user defined rules. Far outstripping the simple ETR290 alarm analyzers and black box switchers broadcasters have used until now, the Bridge VB273 system's rich feature set and powerful analysis and standalone decision capabilities make it the most comprehensive and versatile solution available to date.
PocketProbe for Android and iOS with 2nd Generation OTT Engine – Joining its iOS stablemate, the new PocketProbe for Android delivers incredible OTT monitoring and analysis capability right to the engineer's pocket. Supporting HLS, Smoothstream, HDS and MPEG-DASH standards, with powerful graphics overlay displays, the PocketProbe series offers full remote analysis capability for any OTT service in operation now and into the future.
Version 5.0 System software with new capabilities – Version 5.0 of the system software for Bridge Technologies systems introduces multiple innovations and enhancements for all probes, notably a persistent pop-up MediaWindow display that provides access to a constant status overview even during in-depth analysis operations.
MicroAnalytics™ System – Bridge Technologies' microAnalytics System allows operators to remotely access real-time data from set top boxes, connected TVs, iPads, iPhones and other mobile devices, making accurate and comprehensive end-to-end multiservice/OTT and home network monitoring a reality. Now the microAnalytics System gives OTT operators continuous real-time access to data from all the mobile and fixed viewing devices used by the subscriber, and can identify service-affecting problems arising at the ingress point of the service, or in the interactions within the home network.