There's a new definition for satellite television at sea and it's called the TracVision® HD7 from KVH Industries (Nasdaq: KVHI).
The
TracVision HD7
is a breakthrough in maritime satellite TV design, offering boaters a
DIRECTV
® HDTV experience exactly as they enjoy at home, thanks to simultaneous reception of two DIRECTV Ka-band satellites and one Ku-band satellite.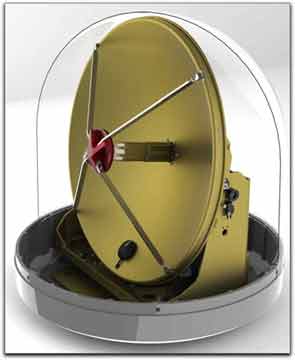 The 24-inch diameter TracVision HD7 is the world's most advanced maritime satellite television system, incorporating patent pending technology and features that provide a unique entertainment experience and unmatched simplicity in operation and installation, including:
KVH's Tri-Rod Antenna Design (TriAD) technology – this patent pending new design simultaneously receives broadcasts from three separate DIRECTV satellites. These signals are concentrated by the tuned subreflector before reaching the unique tri-rod dielectric feed.
Multi-axis dynamic tracking then allows the system to stay locked on even in the roughest seas
IP-enabled Antenna Control Unit (ACU) – KVH's new Internet Protocol (IP)-enabled antenna control unit, with its Ethernet connection, and built-in WiFi interface, makes system setup as easy as opening a web browser
The TracVision iPhone® application – For the most convenient connection to the TracVision HD7 satellite TV, simply download KVH's free TracVision iPhone app from Apple's iTunes App Store for your iPhone or iPod® touch. Then use it to check signal strength, switch to secondary satellites, download and automatically install antenna software updates, and send information directly to KVH technical support. It doesn't get any easier!
Single Wire Multiswitch (SWM) – TracVision HD7 includes a built-in single wire multiswitch that supports up to eight high-definition tuners with just a single cable and allows boat owners to run just a single wire to a dual-tuner DVR, making installation simpler than ever
USB Flash Port – If the boat owner or dealer does not have Internet access or the TracVision iPhone app, updating antenna information is as simple as inserting a USB flash drive loaded with the latest KVH software into the ACU's USB Flash Port to update the system
New optional Tri-Americas™ Ka/Ku-band LNB – The TracVision HD7 offers an optional configuration that includes KVH's new Ka/Ku-band Tri-Americas LNB that eliminates the need to change antenna hardware when switching between DIRECTV HD and Galaxy/DIRECTV Latin America as the boat travels from the U.S. to the Caribbean, Central America, and South America
Easy installation – Installation is simple with only one dome and the same cabling and mounting design as KVH's pop¬ular TracVision 6/G6 and M7 models so upgrading is a breeze
Rock-solid in-motion tracking – The TracVision HD7 offers the best tracking ever available in a KVH satellite TV product thanks to enhanced tracking algorithms and a stainless steel bearing construction to ensure outstanding performance and uninterrupted entertainment even on sportfishers and tuna towers
The TracVision HD7 is designed to overcome the challenge raised when DIRECTV moved its HDTV programming to new Ka-band satellites that are incompatible with existing maritime satellite TV systems. Adding to the complexity, HDTV programming is broadcast on the 99 degrees West and 103 degrees West Ka-band satellites, while the program guide and all non-HD channels are broadcast by DIRECTV's original 101 degrees West Ku-band satellite.