[SatNews] In its fourth edition, NSR's Satellite Operator Financial Analysis (SOFA) report provides a comprehensive analysis of the satellite telecom industry from a financial standpoint, sifting through financial reporting from all Big Four operators and a number of regional operators.
Building on previous editions of the report and including the most up-to-date financial data, NSR's SOFA4 provides not only absolute analyses of satellite operators, but also comparative metrics showing where the averages lie and how these have changed in recent years, for metrics involving revenues, EBITDA, CAPEX, and more. Combining data from 24+ different operators, NSR's SOFA4 digs through the most recent financial data to provide the reader with a comprehensive understanding of the financial side of the satellite industry.
Satellite Operator Financial Analysis, 4th Edition assesses operator financial statements through H1 2014 in many cases, and provides answers and insights to key questions in the financial realm of the industry, including:
How has recent M&A activity affected the paradigm of "Big Four" vs. Regional Operators?
Will consolidation continue in the satellite industry, or can regional operators return to the previous trend of seeing healthier revenue increases than the Big Four?
In what way does the larger CAPEX and potentially larger revenues of HTS programs affect operators' financial status?
How sustainable are the debt loads of heavily indebted operators, and how advisable are the lower debt loads of lightly indebted ones?
Bottom Line: Which operators possess the best overall financial health today? Which operators are improving their position, and at the expense of which competitors?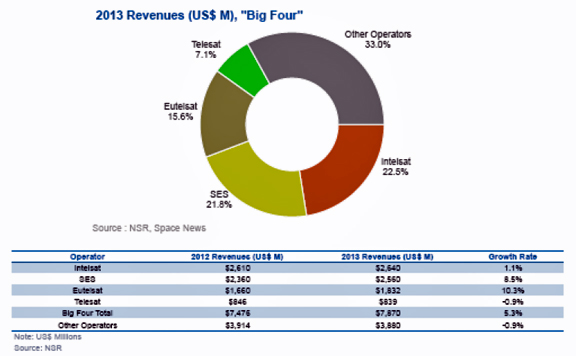 With considerable depth and breadth of financial data, NSR's SOFA4 combines quantitative operator information with qualitative metrics and industry interviews to paint a thorough picture of today's financial landscape. Drawing data from extensive databases, the report proves an excellent guide for anyone looking to gain a more thorough and objective understanding of the financial aspects of a multi-billion dollar industry.
As large-scale global operators continue to fight for global market share, their advantages of economies of scale are clashing head-on with the regional specialization provided by smaller-scale operators, leading to continued surprises in metrics such as Revenues per Leased TPE. Indeed, when taking out of consideration M&A activity, regional players continue to see healthy revenue growth, however the Big Four are striking back by acquiring smaller players and consolidating the market. This report examines which of these trends will win out, long-term.
By looking at available financial data through both standalone and comparative lenses, and by presenting data from 2007 until H1 2014, NSR's Satellite Operator Financial Analysis (SOFA), 4th Edition, provides analysis of not only trends in the recent past, but also insights as to how these trends will continue to evolve into the future.
For additional information regarding this report, please access this link.