[Satnews] Haigh-Farr will display their latest developments in specialized antenna technology at the 2015 ITC/USA (International Telemetering Conference) taking place at Bally's Hotel & Convention Center in Las Vegas, Nevada.
Haigh-Farr will be showing representative examples from its complete line of button and blade antennas, as well as its Flexislot antennas, which cover two and three frequency bands. The company will also feature its series of small satellite antennas for use at frequencies from GPS through X-Band.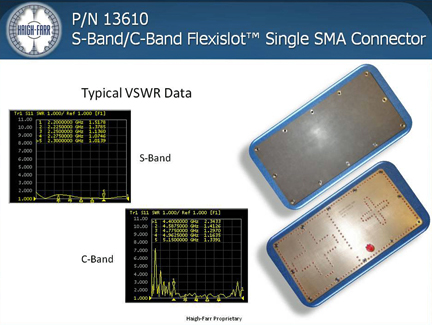 Haigh-Farr will display a broad array of antenna based product offerings covering UHF to K-band frequency designs for the most demanding environments. These include wraparounds, omnislots, patch, waveguides, blades, buttons, couplers, diplexers, quadrature hybrids, custom cables, test hats, environmental testing and a variety of other engineering services.
In addition to exhibiting examples of the company's wide range of specialized antennas, information will be available about Haigh-Farr's new environmental testing facility. The new location provides very realistic conditions of vibration and mechanical shock, and now also includes an environmental chamber for simulating a full range of temperature and vacuum extremes that might be encountered in satellite launches and orbits. Haigh-Farr representatives will also be on hand to provide information about the company's full suite of modeling, simulation and engineering services, including anechoic chamber antenna pattern measurement.
Executive Comment
"Haigh-Farr looks forward to this year's ITC Conference, as it offers us a great opportunity to showcase a number of new products that support the telemetry industry," said David Farr, CEO of Haigh-Farr. "We anticipate a broad array of customers to be in attendance from the defense, aerospace and commercial-based industries. By having a full range of product offerings onsite, we are able to address the telemetry, GPS, video, transponder, data link, flight termination and radar altimetry requirements for space, satellite and airborne applications."