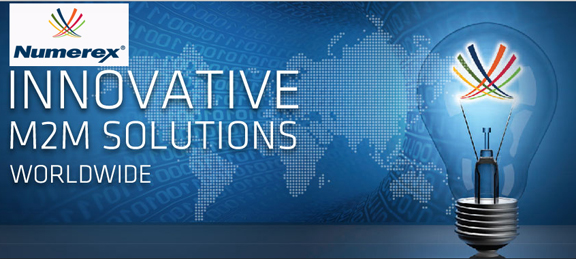 [SatNews] Numerex (Nasdaq:NMRX), a provider of on-demand and interactive machine-to-machine (M2M) enterprise solutions enabling the Internet of Things (IoT), has enhanced its service offering to provide an unlimited satellite data plan specifically targeted for its suite of M2M products.
This new service will be used to provide communications for M2M data collection and monitoring of customers' assets that are deployed across the security, government, healthcare, energy and utilities, financial services, and transportation industries. In addition, the service plan includes mapping and analytic software and an API that can facilitate a data connection directly into a customer's specific tracking application.
As M2M services move up the enterprise value chain, users prefer to monitor their assets more frequently throughout the day. Previous to this offering, satellite pricing levels for data transmission meant most companies limited their communications to just one or two messages per day. This resulted in GPS positioning data being received from far flung assets in the field only on an intermittent basis. With this new, economical, unlimited data plan, Numerex provides satellite tracking customers with a solution that allows them to more closely monitor their assets throughout each day, with updates transmitted as frequently as every five minutes.
Scott Wiley, Senior Vice President of Marketing and Product Management, said, "The capability to acquire rich, near real-time transmissions from our M2M products allows our customers to respond quickly to the data flowing from their assets situated in virtually all regions of the world. The cost effectiveness of this solution opens up new possibilities and enables new value propositions for companies seeking high-frequency, near real time monitoring of widely dispersed assets located across town or across the globe."
To learn more, please access http://www.numerex.com/