[SatNews] A leading manufacturer of RF distribution equipment and British-based global designer, ETL Systems, is expanding on its product range addressing fibre applications and also its existing portfolio of superior quality RF systems.
ETL is adding to its range of products which provide the highest level of redundancy whilst maintaining and improving quality of signals despite a rapid increase in traffic density. ETL's new StingRay RF over Fiber 100 series is a high density 1U rack mountable chassis housing 16 hot-swap transmit and receive RF over fibre modules and is designed to be used for short distance links between satellite dishes and the teleport.
Demonstrations at CommunicAsia 2014

New: ETL Systems' StingRay Fibre Solution—Building on existing RF expertise, the new range will have superior RF specs and provide a unique design for high isolation applications. Full details of the new range are to be launched at CommunicAsia.

New: ETL Systems' Dextra Splitters and Combiners—A new range of web-enabled professional splitters and combiners to cover the L-band frequency range will be available to view at CommunicAsia for the first time. The new Dextra series includes 4-way and 8-way splitters and combiners in both single and dual configurations and 16-way splitters and combiners, available as single units. The range offers consistently excellent RF performance, including high linearity and low noise figure, and outperforms some of the more expensive models available.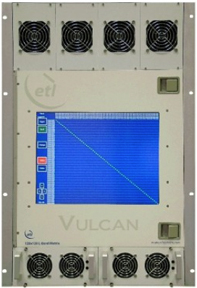 ETL Systems' "V series" matrix family—ETL's "V series" matrix family includes the 128x128 Vulcan Matrix (Model VCN-10) which is an extremely compact matrix used for many high resilience high performance applications. Other matrices in the V family include the 64 x 64 Vortex Matrix, the 32 x 32 Enigma matrix, the 16 x 32 Valiant Matrix and the 16x16 Victor Matrix. The Vulcan's compact configuration offers a cost effective solution for larger RF routing systems. It is housed in a 16U 19" rack enclosure and has extensive on-board monitoring and reporting of RF card amplifier status, CPU and PSU status and HMI communications.

ETL Systems' Alto Amplifier—ETL's Alto series range of L-band Amplifiers will also be on display. The Alto family includes 4, 8 and 16 module options with variable gain and can be remotely controlled via Ethernet and web browser interface. The design of the amplifier is modular, allowing hot-swap of amplifiers and power supplies, and can be controlled locally and monitored via the front panel display with simplified push buttons. It is designed for the front end RF chain and provides amplification and slope compensation from cable loss for teleports and TVRO and head-ends.
The ETL Systems infosite is located at http://www.etlsystems.com/